Authorized Distributor
Deep well pumps are primarily designed to run directly from the solar panels, but most can also be run from battery systems.
Solarjack water pumping systems operating throughout the world -delivering water for farms, ranches, remote homes, cabins campgrounds, third world villages and off-grid industrial and government sites.
Solarjack manufacturing team member is highly skilled in their area of production. Together with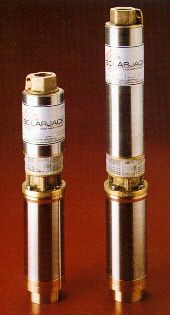 marketing, quality control and administrative personnel, they work to ensure that each component in every Solarjack system performs flawlessly.



Solarjack is Americas only dedicated solar water pump manufacturer and Solarjack engineers have designed the most efficient DC motor for water pumping available. This breakthrough technology means that Solarjack's deep well, submersible solar pumps can deliver water at the lowest system cost.

Solarjack offers all the components necessary for a complete pump system installation. This includes pumps, controllers, wire, connectors, pipe, sensors, well seals, safety rope, splice kits and more.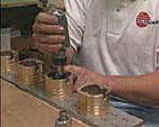 SOLARJACK'S SCS series submersibles are high quality, maintenance-free, DC powered pumps designed for water delivery in remote locations.
They operate on 140 to 1000 watts of DC power at 30 to 120 volts. The power may be supplied from a variety of independent sources including solar modules, wind generators, batteries, of any combination of the three.
The motors are technically advanced, brushless DC, permanent magnet type constructed from marine grade bronze and 304 stainless steel. Designed with a NEMA standard connection, they bolt directly to standard 4" diameter submersible pumps ends. Internal pressure equalization allow motor submergence to any depth without damage to seals.
The pump ends are multi-stage centrifugals constructed from marine grade bronze and 304 stainless steel. The impellers and diffusers are constructed from a rugged thermoplastic and are extremely resistant to mineral and algae deposits. Field servicing of the pump is easily accomplished without the use of specialized tools.

You may need Adobe Acrobat Reader to open some files. You can get this application for free at