Trace The PS Series inverters PS Series: ps2524, ps2512, Sine wave Inverter/Charger will provide unparalleled value at a surprisingly low price
Whatever your application-stand-alone alternative energy, utility tie, generator support, or backup power-Trace's new PS Series Sine wave Inverter/Charger will provide unparalleled value at a surprisingly low price. PS Series inverters produce the same type of microprocessor controlled, sinusoidal power which has made their SW series cousins world famous for quality and reliability.
Information on Inverters applied to Energy, Renewable, DC to AC inverters, power panels, sw4024, sw4048, sw5548, ps2524, ps2512, stxr2500, dr1512, dr1524, dr2412,dr2424,t240, c40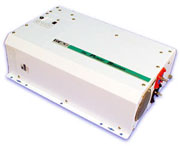 The PS Series has a continuous output of up to 2.5 kW; UL, cUL and CE certification or compliance, PS Series models are available with 12 or 24 VDC input and 120 VAC/60 Hz or 230 VAC/50 Hz output (see specifications). We offer two "stacking" options for the PS Series for installations which have larger power requirements than can be met by a single inverter.
FEATURES
Sine wave Output
PS inverters produce sine wave power-the same type made by utilities and generators. The power output from this inverter is so clean that in many parts of the world it is accepted for utility interconnection.
Built-in Battery Charger
PS inverters include a powerful 3-stage battery charger which is designed to recharge most types of batteries in as short a time as possible. When the batteries are fully charged, the charger automatically switches to Float mode which then maintains the batteries in a fully charged condition.
Expandable
A pair of PS inverters maybe "stacked" wither in series (SWI) or parallel (SWI/PAR) to increase the output of your system. In series, the output of the inverters becomes 3-wire 120/240 VAC. In parallel, the output power of the inverters is doubled while the voltage remains the same. The parallel kit is also available for export models of the PS (SWI/PAR/E)
Simplicity
The PS series is simple to operate, all inverter and battery charger functions are factory preset-this inverter is ready to produce power and recharge batteries. A simple four-position switch controls basic user functions---Off, Search, On and Battery Charger Only. Adjustments to factory default such as Search mode settings or battery charging parameters can be made through optional SWRC Remote Control Panel or SWCA Communications Adapters.
Low Power Consumption
PS Series inverters have extremely low current requirements. In Search Mode (idling with no load) they use less than one watt of power. In the On Mode the PS Series inverter uses less than 20 watts of power-- almost three times less power than our nearest competitors products require to operate.
APPLICATIONS
Stand Alone Power
A PS inverter/charger comes factory ready to electrify your home or cabin. Simply connect a PS inverter/charger to batteries, hook up your AC loads, AC generator input and turn it on. (Fuses and/or circuit breakers are required for complete installation). Add solar PV or wind power to your battery charging system and become truly independent. The PS will convert this clean energy into household electricity.
Power Security
The PS is designed to provide an instantaneous and secure supply of electricity to all the essential circuits in your home or business. When utility power fails, the PS automatically begins to supply electricity to all the appliances, lights, pumps, etc, which are connected to it. When power is restored, the PS can quickly recharge your batteries.
Utility Tie PV
The PS is also capable of turning your home into a micro generating station. Simply add a renewable energy charging source--solar PV, wind, etc.-- to your backup power system and the PS will automatically convert your solar or wind power to utility grade electricity. In many locations your local utility will buy your excess renewable energy. (Adjustments to factory default settings will be required and can be made through optional SWRC or SWCA adapters.)

Note: To view the above PDF documents, you will need the free Adobe Acrobat Reader
1,Information on Inverters applied to Energy, Renewable, DC to AC inverters, power panels, sw4024, sw4048, sw5548, ps2524, ps2512, stxr2500, dr1512, dr1524, dr2412,dr2424,t240, c40 ,