Trace Engineering's SW4024 Inverter
Every once in awhile a product comes along that revolutionizes a whole industry. The SW4024 power inverter is such a product. Powerful, compatible, efficient, stand alone or grid intertie, this machine has it all. With 4,000 Watts of

sine wave output power, a built-in 120 Amp battery charger, automatic generator starting, and load diversion circuitry plus much more, this device will tie it all together and do more to mainstream the use of renewable energy than anything we've seen so far.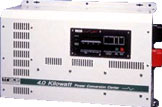 Inverters 101
For newcomers to Home Power, an inverter is a device which changes DC power stored in a battery to standard household 120/240 vac electricity. Most renewable energy charging sources (PVs, microhydro and wind) generate DC which is stored in batteries. Nearly all lighting, appliances, motors, etc., are designed to eat ac power, so it takes an inverter to make the switch from battery-stored DC to standard house power (120 vac, 60 Hz).
The Name Game
Inverters come in two basic flavors, square wave and sine wave. That sounds simple enough, but it ain't. Most inverters sold today produce a modified square waveform. The marketing spin doctors tend to call it modified-sine or quasi-sine wave. Whatever, it all looks the same on an oscilloscope. Most ac devices will digest this waveform OK, but there are some notable exceptions. Devices such as laser printers, which use triacs and/or silicon controlled rectifiers, fry and die when fed mod-sine power. Motors and power supplies usually run warmer and less efficiently on mod-sine power. Some things, like fans, amplifiers, and cheap fluorescent lights, give off an audible buzz on mod-sine wave power. On the plus side, mod-sine inverters make the conversion from DC to ac very efficiently. They are relatively inexpensive, and many of the electrical devices we use every day work fine on them.
To have the term sine wave applied to inverters at all is unique. Sine wave is usually used to describe a waveform produced by a rotary generator. In an inverter, direct current (DC) is switched back and forth to produce alternating current (ac). Then it is transformed, filtered, stepped, whatever, to get it to an acceptable output waveform. This is not a trivial process! Much wizardry goes on in a sine wave inverter. The more processing, the cleaner and quieter the output, but the lower the efficiency of the conversion. No free lunch, eh? The goal becomes to produce a waveform that is acceptable to all loads without sacrificing too much power into the conversion process.
The SW4024 Waveform
Trace calls their waveform a "stepped approximation of a sine wave." I call it the "Mayan temple" waveform. Check out the photo. It's the damnedest thing I ever saw. And it changes! Trace varies the number of steps per cycle between 34 and 52 depending on battery voltage and/or load. Low input voltage or a large load increases the number of steps. More steps mean a closer approximation to a sinusoidal waveform.
We can discuss the theories and relevance of sine waveforms until the cows come home, but the goal is the same: a waveform that is acceptable to all loads without sacrificing too much power into the conversion process. Put simply, if all loads will digest the inverter's waveform as well as they do a sinusoidal wave, who cares what it looks like? They gotta eat it, not me.
Packaging and Manuals
Trace has always packaged their machines as if each one had to go "there and back again." The SW4024 is a BIG machine. It measures 21"W x 15"H x 9"D and weighs in at a whopping 105 pounds (48 kg). Packaging such a behemoth to go around the world is no small thing. Trace started out using the molded foam technique that works well with their smaller inverters. After a few too many dings and crushed battery terminal covers, they switched to two flexible foam cradles which support the machine from all sides and keep it suspended in its heavy cardboard shipping box. The whole shebang is put into another close-fitting heavy cardboard box with cutouts for hand grips and is stapled closed. Short of a jousting contest with forklifts or practice for the caber toss, we think the 4024 will arrive safely.
In the past, Trace owner's manuals have been top notch. We were happy to see this tradition continue with the SW4024, with only a few flaws. The section on battery recommendations seems to have been taken directly from the 2500 Series manual without any updates as to sources of supply. The newer SW4024s are compatible with alkaline batteries. Also, the section dealing with automatic generator starting and stopping needed far more explanation than was given. The manual for the inverter we tested was Version Two. By the time you read this, Version Three should be shipping. It speaks to some of the SW4024 improvements made in the past few months.
The manual runs forty-eight 8-1/2" x 11" pages plus two fold-out diagrams and a five-page addendum of warranty and registration information. None of it is fluff. This is a very serious machine. There are so many features and user adjustable parameters it takes a computer-like, menu-driven, LCD control panel just to display them all. The manual does an excellent job of explaining the operation. It starts right off with important safety instructions. Read these first. This is a machine to be reckoned with.
The manual then goes into an overview and an explanation of the modes of operation, including inverter, battery charger, UPS, and generator or utility interactive mode. The manual proceeds to explain the control panel and its functions. Following that is the discussion of batteries. Finally, on to the actual installation instructions.
While the owner's manual is written in plain English with a minimum of technical jargon, its job is to try and explain a very complex and powerful piece of equipment. Read it before you unpack the inverter. If it makes you nervous or gives you a headache, the manual has probably done its job. Think about hiring an RE electrician to help you out.
SW4024 Specifications & Features
The SW4024 is packed with features. So many, in fact, that we haven't heard of anyone using all of them in one application. The following is a brief description and synopsis of the main ones:
It's a 4,000 Watt sine wave inverter. Continuous. And then some. It has a published idle draw of 16 Watts (we measured 14 W) and a search mode where the inverter powers itself down to one Watt while sending out pulses until a load is detected.
It's a three-stage battery charger. Adjustable charge rate from 0 to 120 Amps DC. Adjustable bulk charge voltage, bulk done amps, float voltage, battery temperature compensation, and max charge time.
It's an uninterruptible power supply (UPS). If the grid (or generator) goes down, it's on line in 32 milliseconds or less.
It's a utility interactive synchronous inverter. If you have excess power from your RE sources or stored battery power, it will synchronize to the grid waveform and sell back power. The battery voltage sell point and maximum sell current are adjustable.
It's a peak load shaving inverter. It has an onboard clock which can be set to power your loads during peak energy consumption times and recharge the batteries off peak when grid electricity is cheaper.
It provides generator support. Should your generator need assistance starting a large load, it will switch from charging to inverting mode, synchronize with the generator waveform, and give up to 10 kW extra starting boost. The generator support voltage and maximum current support are adjustable.
It provides a run and a cranking relay to automatically start and stop my your generator based on battery voltage.
It has separate and interactive inputs for utility and generator support sources.
It has three independent voltage controlled relays which can be used for load diversion, alarms, whatever. Both the relay trip voltage and the change state voltage (hysteresis) are adjustable.
Control Panel
The control panel sets the inverter's operating parameters using an LCD display and eight pushbuttons. One of the buttons is dedicated to turning the machine on/off or into charger mode. This button is colored red for easy identification. A green button switches an automatically starting generator on or off. Two buttons scroll backward or forward through 15 general menu headings. Two others scroll backward or forward through the items under each of the menu headings. The remaining two buttons set the programmable parameters of the menu items. There are 47 user-adjustable settings, 9 metering functions, and 8 diagnostic readings to indicate errors which would cause the machine to shut down. All accessible via the control panel. Whew!
In addition to the LCD display, there are eight LED indicators showing whether the machine is inverting, charging (bulk or float), selling power, has a malfunction, or has grid or generator power present on its inputs.
The control panel also has an adjustment for the LCD contrast for better visibility in different light conditions and an Oops! button which resets all parameters to factory defaults in case you've really got your knickers in a knot.
Metering Functions
The SW4024 control panel has an ac ammeter and both 120 vac and 24 VDC voltmeters. The ammeters display inverter amps (- while inverting, + while recharging), input amps either from grid or generator, and load amps passing from the inverter to the loads. The rms ac voltmeters indicate the inverter ac output voltage, and grid or generator input voltages. The DC voltmeters show actual battery voltage, and temperature compensated battery voltage if the included temperature sensor is used.
The Test Bench
We tested the SW4024 using four Fluke 87 DMMs and a Hewlett-Packard AN/USM 339 dual trace oscilloscope. The Flukes have a DC accuracy rating of 0.1%. The scope was used to view the waveform and the current phase. Home Power had never tested an inverter this big. Even after rummaging through two households, we could only come up with 3850 Watts of resistive loads!
In order to measure the inverter's input current, we used a Fluke 87 measuring the voltage drop across a 500 Ampere, 50 mV shunt. The Fluke measuring DC input voltage was connected at the inverter's input terminals. Output current was measured across a 100 Ampere, 100 mV shunt.
We used Bob-O's main battery (twelve Trojan L-16s­1050 Ampere-hours at 24 VDC) power the inverter. Even with this much stored energy, we had to wait for a sunny day with wind to come up with enough power to really twist the Trace's tail. This is a really big inverter and feeding it requires lots of watts! We set up the test jig in the basement, and testing lasted for over five hours. We had to stop testing periodically to let the battery recover and recharge.
We measured the inverter's no-load power consumption at 13.31 Watts (0.5 Amperes at 26.61 Volts DC). We then proceeded to add loads from 25 watts to 5236 watts. The Trace SW4024's efficiency was over 90% from 95 watts to 2748 watts. We measured 87% efficiency at a full 4000 watts out of the inverter. For a sine wave inverter, this is very high efficiency.
Both the rms and peak output voltages of the Trace were very stable. We measured a low rms voltage of 118.5 and a high of 121.9 vac rms. The peak voltage of the Trace's waveform varied from 161 to 172 vac peak. This degree of stability is better than the utility grid delivers to most homes.
Performance
The power efficiency chart speaks for itself. Our overload tests showed us this machine really has lots of snort. After loading up the 4024 with our 3850 Watts of resistive loads long enough to bring on one of the internal cooling fans, we started a 1/2 HP split-phase grinder. With the grinder and the other loads running, we started a 1/2 HP air compressor. Finally, with all of the going, we started a 7-1/4" Skilsaw. The Trace still had more to give, but our 250 Ampere input circuit breaker popped off at 274 Amps input!
We didn't have the capability at the test site to adequately test the charger features, but data observed from other SW4024 installations indicates it will do as specified at around 75% efficiency (117 vac in to 24 VDC out). This is a big improvement over the Trace 2500 Series chargers which run at about 55%-60% efficiency.
Here are some comments from other SW4024 users.
"The table saw starts much faster, even with the electric water heater on."
"Wall cubes don't buzz (some cheap compact fluorescents still do)."
"The three general purpose relays are great! I have simply been plugging/unplugging the electric water heater (dump load which also serves a useful function). Now I can use one of the relays to control a power relay."
"I like being able to use power tools while someone else is microwaving without dumping the computer."
Warts, or, Ya Can't Please Everybody...
The lowest search threshold is 16 Watts. We'd like to see it a little lower. Over the years, many of us have trained ourselves to eliminate all phantom loads and replace our energy sucking incandescent lighting with low wattage compact fluorescents. I've heard of folks having to insert a phantom in a circuit just so their favorite 7 or 11 Watt CF reading light will stay lit.
The pushbuttons on the control panel sometimes don't make contact and you need to punch them a few times to change the display. The menu items under the menu headings are not necessarily grouped intuitively. We'd like to see two copies of a control panel flow chart, one with the manual and one loose to tack up on the wall next to the machine until you can find your way around.
While the SW4024 is pretty quiet on its power output, the inverter itself emits a very audible hum, especially at high output power. For most applications and installations this should be not problem at all, but if you have to live or work in close proximity to the inverter, then the noise will be irritating.
The stickem on the battery temperature sensor needs some help. It's come unstuck from the sides of several battery banks I've seen.
If this sounds pretty picky, it is! We had to hustle to come up with these! Given the incredible versatility of the SW4024, these are pretty minor flaws.
This and That
The SW4024 is also available in a 40 VDC input version. It also comes in a 3kW, 234 vac, 50 Hz export version, the SW3024E. Trace plans to release a 2500 watt, 12 VDC model by this fall. Options for either the 4024 or the 4048 include a conduit ready enclosure for the DC input cables, a series interface cable and a full function remote display. Everything else is built in. There is a stacking interface that allows two 4024s to operate together. The warranty is two years.
The Trace 4024 is gaining acceptance by utilities. It has been approved by Pacific Gas & Electric for utility intertie in Northern California. The Trace SW4024 is ETL certified to UL spec. 1741 (residential service), so there will be no problems with installations on grid.
Conclusions
The Trace SW4024 is an incredible device. It is the missing link between small-scale renewable energy and America's utility grid. It makes a wonderful, stand-alone inverter for those off of the grid. The retail cost of the SW4024 is $2980. This is very inexpensive (75 cents per watt) for a sine wave inverter. Our testing was rigorous, and the 4024 met Trace's specifications. It works well and is affordable. Great work, Trace!
1, OkSolar Electronics carries a full line of Xantrex Statpower marine inverters, chargers, Prowatt, Portawattz, Prosine, Truecharge and more. Save at oksolar, dc to ac inverters, Inverters, Inverter/Chargers, Smart Battery Chargers, Emergency Backup Power, Tripp-Lite, tripplite, tripp lite, exceltech, iota, Outback, Inverters,Vanner, Sunny Boy, trace, xantrex, AC Inverters and Accessories,8