I have been designing quite a few small off-grid solar power systems for end-users who want to run livestock water pumps, remotely-located flow meters, emergency call-boxes, etc. Many times grounding is the last item addressed, so I'd like to present a little Grounding 101 class for you who have courageously ventured into the arena of off-grid solar and wish to properly protect your investment.
What s Grounding? Grounding is essentially the sending of electricity into the ground. Grounding is used to control dangerous over-voltages, making equipment and personnel safer by providing a low-impedance path (oath of least resistance) for any unintended voltage that is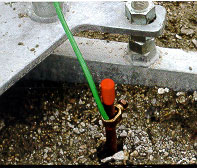 present on the metal parts of equipment, i.e. a "zero volts" condition on all metal parts. Soil composition and environmental conditions determine soil resistance around your ground, including moisture content (more is better), mineral levels (more ions is better), and temperature (warmer is better).
What Should You Ground? You will want to ground any electrical system that has the potential to over-voltage enough to cause damage to personnel or valued equipment. For instance, there's no need to ground a small flash light — it won't hurt anyone, and it's cheap and easy to replace. You will, however, want to ground your —48VDC 2000 amp telecom switch. In the case of solar-powered
Systems, the panels are frequently mounted on the top or side of a pole, and can make quite an attractive lightning rod. Often that system will include a radio antenna mounted on a ten to twenty foot high pole. Equipment performance can also be affected by intermittent interruptions that can be caused by a poorly-designed grounding sys tem, so best to do it right from the start.
How Should You Ground? For process control and telecommunications circuits, the vast majority of Grounding and Bonding specifications recommend a resistance to ground of 5 ohms or less. The earth itself is a poor conductor of electricity, but given enough patting area, resistance can be brought quite low. This is often obtained through the use of deeply-driven ground rods or other earth-penetrating metal piping. Ground rods are typically copper or copper-clad, and sunk at least 8' into the ground. Metal water pipes (not PVC) are often used if they provide sufficient patting area. Never ground to metal gas pipes, as they could explode when supplied with an ignition source such as a lightning strike.
Take a look at an off-grid solar power system, such as the ones we make to power flow meters at remote gas pipeline sites (see the Solar Off-Grid Customer Application Profile on the next page). It has one 4.5 watt solar panel and a 12V 100-Ah battery backup. The greatest source of danger from over-voltage at these sites is a lightning strike to the 20' high antenna. The entire power system is essentially metallic and well-connected — a strike to any part of it would severely damage all the electrical components if not sufficiently protected. A 5/8", 8' copper-clad ground rod is driven into the ground, a copper ground rod clamp firmly fastened to it, and #6 stranded copper ground wire run into the steel battery cabinet and securely attached. All of the other power equipment is wired inside the battery cabinet. Since the remainder of the system wiring is #12 copper stranded with an ampacity of 20, and the #6 ground wire has an ampacity of 75, electricity flowing through the
System from a lightning strike will flow through the more accessible path — the larger-ampacity ground wire — and then straight to the ground rod, to be dissipated into the surrounding earth.
The components for the grounding system are quite inexpensive, and well worth the effort to install. If you lose equipment due to over voltage, not only will you have the expense of replacing it, you will also have the expense of your systems down time. Intermittent operation due to poor grounding is frustrating and can damage components as well. According to the Electrical Power Research Institute, "electrical wiring and grounding defects are the source of 90% or all equipment failures". The best course of action is to eliminate the causes, starting
With proper grounding procedures and practices (NEC Article 250-5 1 and CEC Article 10-500).
Solar energy, solar panels, photovoltaic cells, batteries, inverters, power, electricity, energy