Angle of Orientation for Solar Panels & photovoltaic modules,
When installing photovoltaic modules, be aware that they generate maximum power when facing the sun directly. The fixed position which approximates this ideal over the course of the year, thus maximizing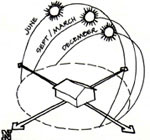 annual energy production, is facing due South (in the Northern Hemisphere) or due North (in the Southern Hemisphere) at the angle listed in the table in the next column.Note that these orientations are true,
The table below shows the fixed angle above horizontal at which modules should be installed in order to maximize annual energy output.
At some installations, it may be cost-effective to adjust the tilt seasonally. At most latitudes, performance can be improved during the summer by using an angle flatter than the chart's recommendation; conversely, a steeper angle can improve winter performance.
If modules are not cleaned regularly, it is recommended that they not be mounted at an angle flatter than 15". Flatter angles cannot take ful1 advantage of the cleansing action of rainfall.
MODULE TILT ANGLE
Solar modules produce the most power when they are pointed directly at the sun. For installations where the solar modules are mounted to a permanent structure, the solar modules should be tilted for optimum winter performance. As a rule, if the system power production is adequate in the win ter, it will be satisfactory during the rest of the year. The mod ule tilt angle is measured between the solar modules and the ground.

Example: A module mounted in Miami, Florida (latitude 26º should be tilted at approximately 36º from horizontal, and should be faced due South.
Latitude Site
Tilt Angle
0-15

°

15º

15-25°

SAME AS Latitude

25-30°
add 5° to local latitude
30-35°
add 10° to local latitude
35-40°
add 15° to local latitude
40° +
add 20° to local latitude
Solar Panels, Solar Array, Array, Photovoltaic, pv, astropower, bp, bp solar, siemens, Kyocera, unisolar, uni-solar, flexible solar panels, marine solar panels, marine modules, Solar photovoltaic modules, Solar Panels, Solar Array, Array, Photovoltaic, pv, roof shingles, astropower, bp, bp solar, siemens, Kyocera, unisolar, uni-solar, flexible solar panels, marine solar panels, marine modules

You may need Adobe Acrobat Reader to open some files. You can get this application for free at
1, Angle of Orientation for Solar Panels & photovoltaic modules, Solar Panels, Solar Array, Array, Photovoltaic, pv, astropower, bp, bp solar, siemens, Kyocera, unisolar, uni-solar, flexible solar panels, marine solar panels, marine modules, Solar photovoltaic modules, Solar Panels, Solar Array, Array, Photovoltaic, pv, roof shingles, astropower, bp, bp solar, siemens, Kyocera, unisolar, uni-solar, flexible solar panels, marine solar panels, marine modules,