Introducción a las bombas de agua solares
Para aquellas localidades en donde no existen tendidos eléctricos, las bombas solares Dankoff ofrecen una alternativa limpia y simple a los motores que queman combustible, a los generadores y a los molinos de viento. Estas no requieren de combustible, y necesitan de un mínimo mantenimiento. Una bomba solar produce la mayor cantidad de agua cuando más se necesita –cuando el clima está soleado y seco.

Las aplicaciones típicas de las bombas solares
Irrigación (bombeo y presurización)
Acuacultura (transferencia, circulación, aireación, deshielo)
Aquaculture (transfer, circulation, aeration, de-icing)
Suministro a casas y poblados
Clínicas
Campamentos, cabañas vacacionales
Purificación de agua y sistemas de tratamiento
Ok Solar and Wind Powered Water Pumps
Ok Just add Water!
Solar-Powered Submersible Water Pumps, Solar Water Pumps, wind water pumps.
Solar Water Pumps - Solar-Powered Submersible Water Pumps
Solar water pumping systems have many advantages over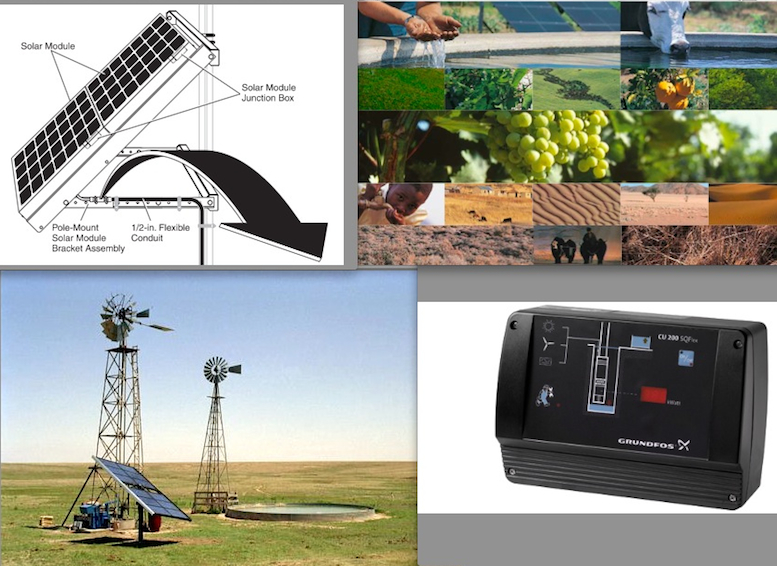 windmill water pumpers. Though the initial cost of solar powered systems can be similar to that of windmills (however, in many cases far less!), the lifetime costs are much lower. Windmills must be used where there is a steady, constant wind for maximum results while solar powered pumps
operate anywhere the sun shines. Solar pumping systems can be installed in less than a day by an individual or small crew and can be portable, while windmills (because of the need to erect a tower) can take a larger crew a much longer time to install. Windmills are secured to the ground and are stationary. Solar powered water pumping systems are the modern day, upgraded version of the wind.
An all new technology for water pumping: In partnership with Grundfos International, the SQ Flex technology is leading the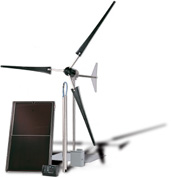 industry in wind/Solar – electric water pumping. Rather than the traditional mechanical windmill, wind/solar electric systems can provide water at any time.
Is a Wind//Electric Water Pumping System Right for You?
OkSolar Windpower/Grundfos wind electric water pumping systems are excellent for replacement of mechanical wind systems or new installations. The proven reliability of the system along with world wide service and sales offices make this technology the right choice. There are a number of models available for various outputs and well (bore hole) depths.

3 Easy Steps:
Select the water Pump System that best meets your needs
Check Prices by Model Number. Click Here!
Buy it and Add Water!
Unit: units used in the water pumping section are US gallons and feet of head unless otherwise indicated. To convert gallons to litres, multiply gallons by 3.78.

LIFT: Up to 200' (70 m)
VOLUME: 176-350 Gal/day (800-1600 ltres/day)

Submersible Pumps Grundfos SQFlex
Applications
Drinking water supply
Livestock watering
Pond management
Irrigation
Features
Automatically accepts power from solar modules, wind turbines, batteries, AC generators and AC grid power

Comes in centrifugal and helical rotor models

Simple installation

Reliable water supply

Virtually no maintenance

Stainless steel design for long pump life

System expansion possibilities

Built-in controller/inverter

Built-in protection against dry-run, over and under-voltage, mechanical overload and over-temperature
Technical data
Lift up to 600 feet (183 m)

Flow rate up to 85 GPM (19 m3/h) and 32,500 GPD (123 m3/d)

Input voltage range 30 - 300 VDC and 90 - 240 VAC 50/60 Hz

Permanent magnet motor for high efficiency

Water temperature range 32°F to 104°F, pH 5 – 9

Salt water tolerant up to 500 PPM (parts per million) Cl-

Sand tolerant up to 50 PPM
| | | | | | |
| --- | --- | --- | --- | --- | --- |
| Pump Model | Pump Length | THD Range | Max Lift | NPT Size | Flow Range |
| 3 SQF-2 | 47 | 120-390 | 360 feet | 1 | 3 GPM |
| 6 SQF-2 | 48 | 120-390 | 360 feet | 1 | 6 GPM |
| 11 SQF-2 | 49 | 40-300 | 300 feet | 1 1/4 | 11 GPM |
| 25 SQF-3 | 33 | 0-40 | 45 feet | 1 1/2 | 25 GPM |
| 25 SQF-6 | 35 | 0-60 | 60 feet | 1 1/2 | 40 GPM |
| 40 SQF-3 | 37 | 0-20 | 40 feet | 2 | 40 GPM |
| 75 SQF-3 | 39 | 0-40 | 75 feet | 2 | 75 GPM |

We provide OEM energy solutions for military and government, as well as private sector applications, helping clients achieve 100% up-time for applications ranging from Hospitals, school warning signals to explosion proof street lights.Applications:

Commercial - Industrial - Disaster Relief - Military and Residential

V7.77
---
OkSolar.com Affiliate
---

---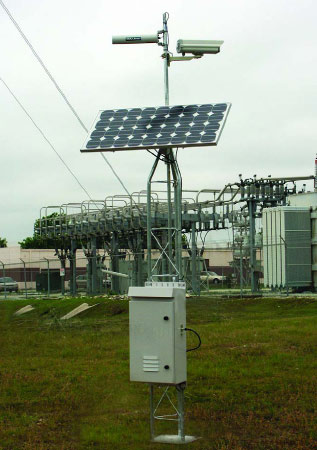 IP Video Anywhere Solar Powered! Protecting Critical Government Infrastructure Military and Homeland Surveillance IP Video AnyWhere Solar Powered! IP Video solutions are the next wave in CCTV surveillance. The ability to monitor your systems from anywhere, IP video solution. Keep an eye on your critical facilities at all times. With OkSolar's IP Video Anywhere, you can monitor sites several thousand miles away as if they were across the street. Our system facilitates remote site surveillance through energy-independent operation and allows video to be transmitted over IP without any physical lines being installed. Companies with remote or hard to access assets, such as oil and gas pipelines, bridges or rural properties, have not had an effective, economical solution for protecting those assets. Some of the features like automated archiving allow you not only to track construction progress in real time but also to retrieve past images which can be used to resolve issues quickly.

---

Traffic Warning Signals Our 12', 2 Head, Solar powered school warning flasher signal is the cost effective solution to your pedestrian safety problems. More Information > Traffic control lights, LED Traffic signals Manufacturer & Distributor, School Zone LED, School Zone LED flashing beacon, 24 7 hour led flashing beacon traffic, school zone, School warning signals, 24 hours warning Flashers, Road way warning signals, pedestrian crossing, railroad warning, ice on bridge warning, low water crossing, led beacons, speed awareness displays, Solar Powered Pedestrian Beacon, Pedestrian Beacons, 24/7 Flashing Beacon
---

---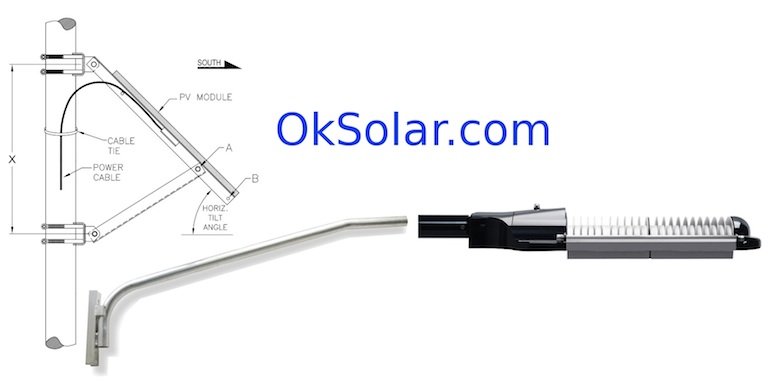 SolarLighting Complete turn key Systems Solutions for Solar Lighting All components needed for installation are included (except for the mounting pole). The systems are designed for installation onto a wood, concrete, or metal mounting pole. You may choose to use your own pole or we can quote the poles separately from the lighting system itself. These units can be used for: Area lighting, Billboards lighting, Dock lights, Park lighting, Parking lot lighting, Parkway lighting, walkway lighting, Street lighting, Transit Lighting, Outdoor area lighting Complete turn key Systems Solutions for Solar LED Lighting
---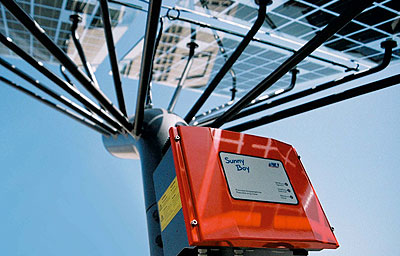 Solar Tree We Delivered On-Site For Fast Plug and Pay Installation Solar Tree structure are designed for the following applications: -Shading vehicles from the sun and at the same time generate Green energy. -Facilitate the creation of infrastructure for electric vehicles. One Solar Tree structure system shades eight standard parking spaces.One Solar Tree structure generates enough energy to fully charge eight electric vehicles each day or power Office Space, Industrial plants or a House. We Ship Worldwide in site technical support available.
---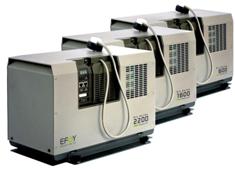 Fuel Cell Are you tired of your devices being left in the dark, when your solar energy system stops providing power? Then IQ Fuel Cells are the perfect answer for you. Are now available as an alternative source for renewable energy. Unlike traditional power generators, they don't require gasoline to generate power. They also provide an alternative to solar generators because they do not depend on any external power gathering equipment. These units are compact, durable, and built to power a wide range of applications. The Best Generator Ever! Applications: Airports, Computer Rooms, Hospitals, Traffic, UPS Smart designs with IQ Fuel Cells for smart energy applications Contact us today!
---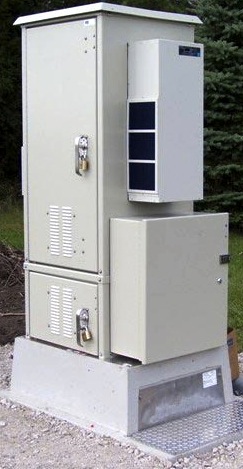 Battery Backup Systems for LED Traffic Signs Increase the public safety and reduced traffic congestion by allowing traffic lights to function even during a power failure. A typical traffic signal intersection experiences eight to ten local power outages annually. With IQUPS battery backup power, some or all the traffic control signals can continue to operate. This seamless switchover to battery power increases public safety and eliminates the need to dispatch police or other service personnel to direct traffic. If all traffic signals were converted to LEDs, the battery backup system would allow full operation of the traffic signals during a power outage, thus alleviating traffic congestion. Important feature is the battery backup system's ability to maintain the memory of the traffic signal controller. The controller is responsible for sequencing the on and off times of the various signals. With a battery backup system, the controller's memory can be maintained and return to normal operation once the outage has ended. This feature has eliminated the time spent to reprogram controllers after a power outage Traffic IQUPS It is designed to provide backup power for critical LED traffic light intersections. With 1,000 watts of true sinewave power available, IQFuel Cell and maintenance free Deep cycle batteries. Traffic IQUPS will drive most large LED systems. Its pure sinewave output is cleaner than utility power, making it ideal for all loads. Total distortion is typically less than 1.5%. Manufactured in the USA to the highest standards possible, Traffic IQUPS system is the best choice for critical load protection. power outage knocked out traffic lights, backup generators, emergency generator Depending on the consumers needs, the IQFuelCell automatically charges the battery with up to 100 Ah per day. As independent power supply or in combination with other systems, the IQFuelCell runs self-sufficiently for months. The circuit is fully protected via breakers and fuses on the AC input, connection to the batteries, and DC loads. Outdoor, lockable, aluminum enclosure includes tamper-proof hardware suitable for pole or wall mounting. DC.
---

IQAirport Airport and Heliport landing back-up Battery Charger: 12Volts, 24 Volts, 36Volts, 48 Volts -120VAC or 230VAC Using state-of-the-art, switch-mode technology, the DLS Power Supply series is engineered with the user and variable environmental conditions in mind. Extra care has been given to insure many years of service-free operation, even when subjected to extremely harsh conditions. Batteries are charged quickly and efficiently without over charging and pumps, motors, and fans operate perfectly for prolonged life.
---

OkSolar.com has decided to adopt QR-Codes in our manufacturing process to streamline support and maintenance in all of our applications, resulting in savings for Government Agencies.
---
Deka Military/Ordnance batteries out rank the requirements for power and reliability.

Specially designed to meet military specifications. Certificate of compliance available upon advance request. Available Wet or Dry Charged. 2HN, 4HN and 6TL sizes available


Single Battery Solar Charger Rechargeable, Lithium Ion Battery with "State of Charge DisplayBB-2590/U SINCGARS & ATCS (AN/PRC-104, 119, 117) • FALCON (AN/PRC-138117) KY-57 • MXF430 (V), AN/PSC-5, M22 • BA-5390/U • BA-5590/U • BB-390B/U • BB-590/U • BB-690/YTypically Used in Replacement for/or Compatible with BA-5390/U • BA-5590/U • BB-390B/U • BB-590/U • BB-690/Y
RailRoad: Available in 32-volt unitized design or individual 8-volt units. Deka Unitized Locomotive Starting batteries at 32-volts are available from 2395 amps to 3415 amps @ the 5 second rate @ 77°F to 1.00 VPC and 450 to 650 AH @ the 8 hour capacity @ 77°F to 1.75 VPC. 8-volt Locomotive Starting batteries are available from 1665 amps to 3415 amps @ the 5 second rate @ 77°F to 1.00 VPC and 330 AH to 650 AH @ the 8 hour capacity @ 77°F to 1.75 VPC.


Deka Gel Tech Lead Acid Battery Specifications
| Model | Volts | AH | RC | CCA | L | W | H | Lbs |
| --- | --- | --- | --- | --- | --- | --- | --- | --- |
| 8G22NF | 12 | 50.0 | 82 | 245 | 9.4 | 5.5 | 9.3 | 38.5 |
| 8G24 | 12 | 74.0 | 132 | 410 | 10.9 | 6.8 | 9.9 | 53.5 |
| 8G27 | 12 | 86.0 | 160 | 505 | 12.8 | 6.8 | 9.9 | 62.5 |
| 8G30H | 12 | 98.0 | 184 | 550 | 13.6 | 6.8 | 10.2 | 73.5 |
| 8G4D | 12 | 183.0 | 375 | 1050 | 20.8 | 8.5 | 10.0 | 131.0 |
| 8G8D | 12 | 225.0 | 475 | 1265 | 20.8 | 11.0 | 10.0 | 161.0 |
| 8GGC2 | 6 | 180.0 | 345 | 585 | 10.3 | 7.1 | 10.9 | 72.0 |
| 8GU1 | 12 | 32.0 | 44 | 215 | 7.8 | 5.1 | 7.3 | 24.0 |
| 8GU1H | 12 | 32.0 | 44 | 215 | 8.3 | 5.1 | 7.3 | 24.0 |

Projects:

Projects

Battery Storage for Smart Grid IQUPS.com Renewable Energy - Solar PV Plants - Electric Car Charging Stations - Smart Grid.
BBS Battery Backup system for Obstruction Lights Obstruction Lighting.
Buoy-Based Security System For Ports - How to Secure Ports - Obstruction Lighting - Marine Lanterns - Infrared LED Red Beacon.
OkSolar Projects Commercial Industrial and Military - Hospital Solar Power Solutions.
Electric Vehicle Charging Station Solar Powered - How To Create a System to Solar Power Electric Cars.
How To Create a System to Solar Power Electric Cars.
How to Install a Obstruction Lighting in a Wind Turbine - Wind Turbine Lighting.
How to Install a Solar Powered Obstruction Lighting in a Wind Turbine - Solar Powered Wind turbine Obstruction Lighitng FAA Certified.
How to Secure Ports - Obstruction Lighting - Marine Lanterns - Infrared LED Red Beacon
How to use a BBS Battery Backup system for Obstruction Lights Obstruction Lighting.
Modular Energy Storage Solar Powered, Wind and Fuel Cells Assisted Substantially reduces the requirement for diesel fuel and the associated costs and logistics and attacks..
Military Modular Energy Storage Solar Powered - Wind - Fuel Cells Assisted Substantially reduces the requirement for diesel fuel and the associated costs and logistics and attacks.
IQUPS.com Develops Modular Power Storage for Renewable Energy - Solar PV Plants - Electric Car Charging Stations - Smart Grid.
Shipping Containers Solar Powered - Modular Energy Storage Solar Powered Wind Assisted.
Skystream Hybrid 6 wind-solar system increases energy production of the solar array by up to 35 percent compared with a fixed mount system.
Solar LED Street Lamp - Obstruction Lighting - Marine Lanterns - Infrared LED Red Beacon
Solar Powered Obstruction Lighting for Wind Turbines.
Solar Powered Obstruction Lighting for Wind Turbines Generators - Obstruction Lighting Solar Powered.
Solar Powered Schools Self Powered by a Shipping container.
Wind Turbine Generator Obstruction Lighting Solar Powered.
Wind Turbine Lighting - Solar Powered Wind turbine Obstruction Lighitng FAA Certified.
Wind Turbine Obstruction Lighting Solar Powered FAA-Certified L-864.

Cómo Funciona

Los paneles FV producen electricidad a partir de la luz solar usando celdas de silicón, sin partes móviles. Estos han sido producidos en masas desde 1979. Son tan confiables que la mayoría de los fabricantes suministran una garantía de 10 años, y una expectativa de vida de 20 años. Estos funcionan bien en climas fríos o calientes.

Las bombas de agua solares están especialmente diseñadas para usar energía eléctrica directa generada por los paneles FV. Estos deben trabajar en condiciones de luz baja a potencia reducida, sin decaer o sobrecalentarse. Las bombas de baja capacidad usan mecanismos de desplazamiento positivo (volumétrico) que sellan el agua en las cavidades y la fuerzan hacia arriba. La capacidad de elevación se mantiene aún con un bombeo lento. Estos mecanismos incluyen al diafragma, el impulsor y las bombas de pistón. Estas difieren de una bomba centrífuga convencional que necesita girar rápidamente para funcionar eficientemente. Las bombas centrífugas se usan en donde se requieren mayores volúmenes.

Una bomba de superficie es aquella que se instala a nivel del suelo. Una bomba sumergible es aquella que se hace bajar al agua en un pozo. La mayoría de los pozos profundos usan bombas sumergibles.

Un controlador de bomba (amplificador de corriente) es un dispositivo electrónico que se usa con la mayoría de las bombas solares. Este actúa como una transmisión automática, ayudando a la bomba a encenderse y a no detenerse al decaer la luz solar.

Puede usarse un rastreador solar para inclinar los paneles FV a medida que el sol se desplaza en el cielo. Esto incrementa la ganancia diaria de energía hasta en un 55%. Con más horas pico de luz solar, pueden usarse una bomba y un sistema eléctrico más pequeños, reduciendo así los costos totales. El rastreo funciona mejor en climas soleados y despejados. Es menos efectivo en climas nublados o en los días invernales cortos.

El almacenamiento es importante. Podría requerirse una reserva para tres a diez días, dependiendo del clima y el uso del agua. La mayoría de los sistemas usan el almacenamiento de agua en lugar de las baterías. Por razones de simplicidad y economía. Un interruptor de flotación puede desactivar la bomba cuando el tanque de agua se llena, para evitar derrames.

Comparado con los molinos de viento, las bombas solares son menos costosas, y más fáciles de instalar y mantener. Estas suministran un flujo constante de agua. Pueden instalarse en valles y en áreas boscosas donde la exposición al viento es pobre. Un panel FV puede colocarse a cierta distancia de la bomba misma, aún a cientos de metros de distancia (100 m).

Puede usarse un rastreador solar para inclinar los paneles FV a medida que el sol se desplaza en el cielo. Esto incrementa la ganancia diaria de energía hasta en un 55%. Con más horas pico de luz solar, pueden usarse una bomba y un sistema eléctrico más pequeños, reduciendo así los costos totales. El rastreo funciona mejor en climas soleados y despejados. Es menos efectivo en climas nublados o en los días invernales cortos.

El almacenamiento es importante. Podría requerirse una reserva para tres a diez días, dependiendo del clima y el uso del agua. La mayoría de los sistemas usan el almacenamiento de agua en lugar de las baterías. Por razones de simplicidad y economía. Un interruptor de flotación puede desactivar la bomba cuando el tanque de agua se llena, para evitar derrames.

Comparado con los molinos de viento, las bombas solares son menos costosas, y más fáciles de instalar y mantener. Estas suministran un flujo constante de agua. Pueden instalarse en valles y en áreas boscosas donde la exposición al viento es pobre. Un panel FV puede colocarse a cierta distancia de la bomba misma, aún a cientos de metros de distancia (100 m).

Para qué se usan:

Abrevamiento de ganado: Los ganaderos en América, Australia y Sudáfrica son usuarios entusiastas de las bombas de agua solares. Sus fuentes de agua están dispersasen amplias áreas en las cuales las líneas eléctricas son escasas o existentes, y los costos de transporte y mantenimiento son altos. Algunos rancheros usan las bombas solares para distribuir el agua a lo largo de varios kilómetros (hasta 5 Km.) de tuberías. Otros usan sistemas portátiles, llevándolos de una fuente de agua a otra.

Irrigación: Las bombas solares se usan en granjas pequeñas, huertos, viñedos y jardines. Es más económico bombear directamente del panel FV (sin baterías), almacenar agua en un tanque, y distribuirla por flujo de gravedad. Donde se requiera la presurización, las baterías de almacenamiento estabilizan el voltaje para distribución y flujo consistentes, y podría eliminar la necesidad de un tanque de almacenamiento.

Agua para uso doméstico: Las bombas solares para casas privadas, villas, clínicas, etc. Una bomba de agua puede alimentarse con su propio panel FV, o a través de un sistema principal que alimente las luces y los electrodomésticos. Puede usarse un tanque de almacenamiento elevado, o una segunda bomba llamada bomba impulsora, la cual puede suministrar presión de agua. O, el sistema principal de baterías puede suministrar el almacenamiento en lugar de un tanque. El atrapar el agua de lluvia puede suplir el bombeo solar cuando la luz solar es escasa. Para diseñar un sistema, es importante tener una idea general de las necesidades y considerar todos los recursos.

Pensando en pequeño

No existen límites para el tamaño de las bombas solares. Pero, éstas tienden a ser más competitivas en instalaciones pequeñas donde los motores de combustión son menos económicos. Las bombas solares más pequeñas requieren menos de 150 vatios, y pueden elevar agua desde profundidades superiores a 65 metros a 5,7 litros por minuto. Ud. se sorprenderá del desempeño de un sistema tan pequeño. En un día soleado con 10 horas de luz solar, la bomba puede elevar 3.400 litros. Eso es un suministro suficiente para varias familias, ó 30 cabezas de ganado, ó 40 árboles frutales.

El bombeo solar lento nos permite utilizar fuentes de agua de bajo rendimiento. También reduce el costo de tuberías muy largas, ya que pueden usarse tubos de diámetro pequeño. La longitud de la tubería tiene poca influencia sobre la energía requerida para bombear, por lo que el agua puede ser impulsada a grandes distancia a bajo costo. Las bombas solares pequeñas pueden instalarse sin necesidad de equipo pesado o herramientas especiales.

La forma más efectiva de minimizar el costo del bombeo solar es minimizando la demanda de agua a través de la conservación. La irrigación por goteo, por ejemplo, puede reducir el consumo a menos de la mitad que con los métodos tradicionales. En los hogares, los sanitarios con bajo consumo de agua pueden reducir el uso doméstico total a la mitad. La eficiencia en el uso del agua es una consideración primaria en la economía del bombeo solar.

Enfoque su Diseño Cuidadosamente

Cuando están presentes un generador u otra fuente principal, usamos una bomba relativamente grande y encenderla sólo cuando sea necesario. Con las bombas solares, no podemos darnos ese lujo. Los paneles FV son costosos, por lo que debemos determinar su tamaño de forma exacta. Es como arreglar un traje a la medida; Ud. necesita tener todas las medidas.

Aquí están algunas orientaciones para los datos que necesitará para determinar sus necesidades, para diseñar un sistema, o solicitar una proforma de un proveedor.

Cuestionario para el Diseño de una Bomba Solar

Ahora, determinaremos si es mejor una bomba sumergible o una bomba de superficie. Esto se basa en la naturaleza de la fuente de agua. Las bombas sumergibles están adaptadas tanto para pozos profundos como para fuentes de agua superficiales. Las bombas de superficie sólo pueden bombear agua desde una profundidad de 20 pies (6 m) por debajo del nivel del suelo, pero pueden bombearla fácilmente colina arriba. Donde pueda usarse una bomba de superficie, esta será menos costosa que una bomba sumergible, y hay a disposición una gran variedad de ellas.

Ahora, necesitamos determinar la tasa de flujo requerida. Esta es la ecuación en términos bastante simples:

Galones (metros cúbicos) por hora = galones (metros cúbicos) por día/ horas pico de luz solar disponibles por día.

Las horas de luz solar pico se refiere a las horas equivalentes promedio de energía solar recibida por día. Estas varían con la ubicación y la estación del año. Por ejemplo, en el árido centro-oeste norteamericano el promedio es de 7 horas en el verano y disminuye a 4,5 horas pico a mediados del invierno

Ahora, nos referiremos a nuestros gráficos de desempeño para el tipo de bomba más adecuado. Estos especifican el tamaño y configuración (voltaje) del panel solar necesario para hacer funcionar la bomba.

Introducción Práctica a las Bombas de Agua Solares, baterias, energia solar, electricidad, celdas solares