Aluminum enclosures and Cabinets for Advanced power electronics enabling delivery of electricity anytime anywhere!
Specially designed to meet military specifications. Certificate of compliance available upon advance request. Made in the U.S.A.
OD, ST, & POD series accessories
| Part # | Description | List Price |
| --- | --- | --- |
| PR-2-10 | Xtra POD-Series 10" Rails, 19" Racking | $58.00 |
| PR-2-30 | Xtra POD-Series 30" Rails, 19" Racking | $47.00 |
| R-2-30 | Xtra OD-Series 30" Rails, 19" Racking | $61.00 |
| R-2-50 | Xtra OD-Series 50 " Rails, 19" Racking | $69.00 |
| R-2-62 | Xtra OD-Series 62 " Rails, 19" Racking | $70.00 |
| R-2-78 | Xtra OD-Series 78" Rails, 19" Racking | $79.00 |
| R-2-30-23 | Xtra OD-Series 30" Rails, 23" Racking | $61.00 |
| R-2-50-23 | Xtra OD-Series 50" Rails, 23" Racking | $69.00 |
| R-2-62-23 | Xtra OD-Series 62 " Rails, 23" Racking | $70.00 |
| R-2-78-23 | Xtra OD-Series 78" Rails, 23" Racking | $76.00 |
| STR-2-30 | Xtra ST-Series 30" Rails | $57.00 |
| STR-2-42 | Xtra ST-Series 42" Rails | $65.00 |
| I Hooks | Lifting Eye-Hooks Kit Qty-4 | $100.00 |
| CF-4 | Two 4" C-Chan. Feet 25" Long | $125.00 |
| CA-4 | Set of Heavy Duty Caster Kit (4) | $55.00 |
| .5MICRONS | Two 5 Micron Nylon Replacement Filters 7 1/4"W X 10"H | $54.00 |
| .5INS | 1/2" Foil Back Heavy Duty Insulation Installed Completely Inside Enclosure | $54.00 |
| CB3-DX | 3"H - 4 Sided Pedestal Base for DX- Enclosure | $187.00 |
| CB3-DD | 3"H - 4 Sided Pedestal Base for DD- Enclosure | $212.00 |
| CB3-DDX | 3"H - 4 Sided Pedestal Base for DDX- Enclosure | $237.00 |
| VIB-25 | Shock Mounted Vibra-Bobbins for 19" or 23" Racking Rails | $273.00 |
| COL-4 | 4" COLLAR TO JOIN 2 ENCLOSURES TOGETHER FOR CABLE PASS THRU | $273. |
Nema Outdoor Pole/Wall/Pad and Traffic Enclosures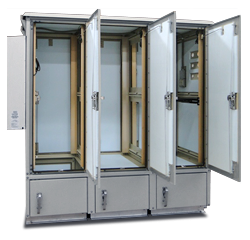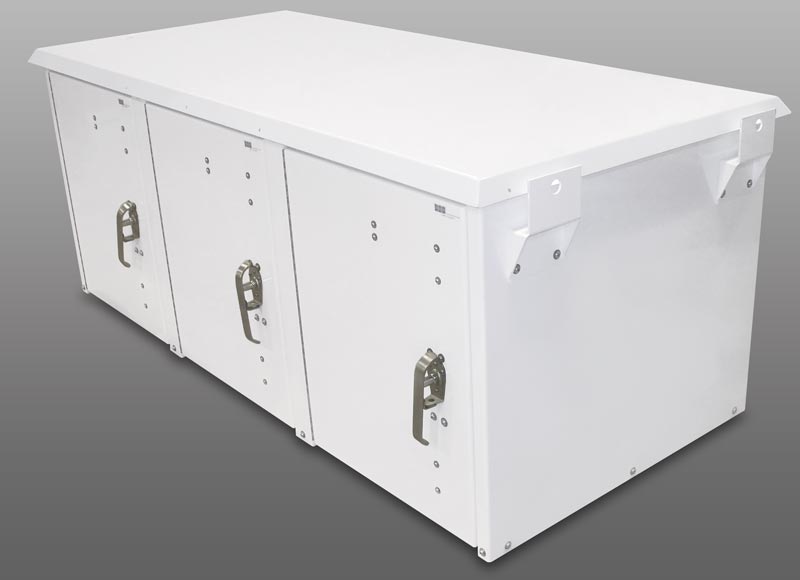 ---
---
Environmentally Controlled enclosures and Cabinet weatherproof Aluminum Cabinet Enclosures, Environmentally Controlled Cabinet Outdoor Cabinet for Communications Microwave Radio Equipment and Traffic control products Enclosures Quality, Environmental and Safety Management Manual Thermal Management. ELECTRONIC ENCLOSURE COOLING SYSTEMS RANGING FROM 1,000 TO 20,000 BTUH WITH UL TYPE 12, 4, 4X, AND NOW 3R !

Air Conditioners
closed-loop enclosure cooling systems to compliment today's highly engineered work stations.
35% more energy efficient
40% more savings in space
45% lighter in weight

---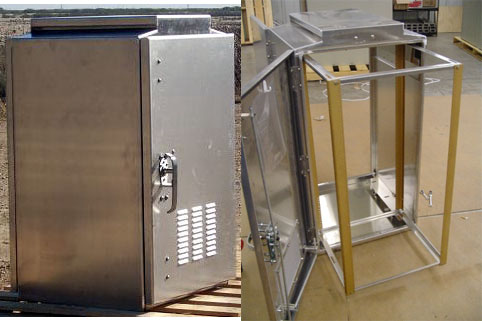 ---


Power System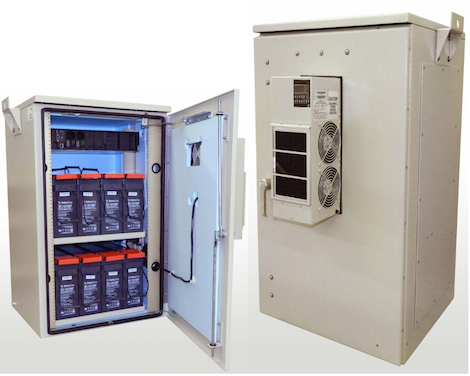 Battery Backup Systems for LED Traffic Signs Increase the public safety and reduced traffic congestion by allowing traffic lights to function even during a power failure. A typical traffic signal intersection experiences eight to ten local power outages annually. With IQUPS battery backup power, some or all the traffic control signals can continue to operate. This seamless switchover to battery power increases public safety and eliminates the need to dispatch police or other service personnel to direct traffic. If all traffic signals were converted to LEDs, the battery backup system would allow full operation of the traffic signals during a power outage, thus alleviating traffic congestion.

Important feature is the battery backup system's ability to maintain the memory of the traffic signal controller. The controller is responsible for sequencing the on and off times of the various signals. With a battery backup system, the controller's memory can be maintained and return to normal operation once the outage has ended. This feature has eliminated the time spent to reprogram controllers after a power outage

Traffic IQUPS It is designed to provide backup power for critical LED traffic light intersections. With 1,000 watts of true sinewave power available, IQFuel Cell and maintenance free Deep cycle batteries.

Traffic IQUPS will drive most large LED systems. Its pure sinewave output is cleaner than utility power, making it ideal for all loads.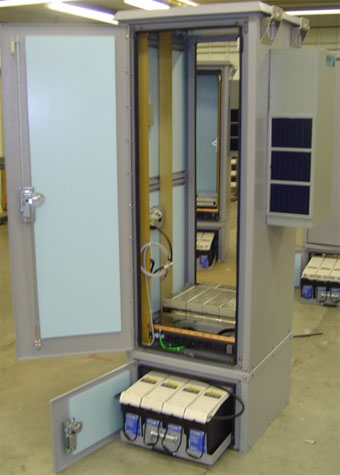 Total distortion is typically less than 1.5%. Manufactured in the USA to the highest standards possible, Traffic IQUPS system is the best choice for critical load protection. power outage knocked out traffic lights, backup generators, emergency generator

Depending on the consumers needs, the IQFuelCell automatically charges the battery with up to 100 Ah per day. As independent power supply or in combination with other systems, the IQFuelCell runs self-sufficiently for months.

The circuit is fully protected via breakers and fuses on the AC input, connection to the batteries, and DC loads. Outdoor, lockable, aluminum enclosure includes tamper-proof hardware suitable for pole or wall mounting. DC ripple <50mV

---
Air-conditioner-solutions-for-our-lines-of-NEMA-enclosure- cabinets-that-range-from-1000-BTUs-to-12000-BTUs.pdf
---
The enclosures are normally used to house electrical controls, terminals and instrumentation. Typical industrial applications include traffic control, electronics and telecommunication. The cabinets are available in many sizes and configurations, including double door and four door versions

Pre-Configured Outdoor Cabinet Solutions
Configured Outdoor Cabinet Solutions are designed to meet the most popular cabinet needs. All cabinets are made from Alum flex material, a unique material, designed to give the best durability at the lightest weight

Outdoor Series Cabinets
The 777 series cabinet is a new design in communication cabinet enclosures, being as rigid as steel and yet feather light. This series cabinet offers all the protection needed for tokay's outdoor requirements. Features front and rear doors, adjustable rails and a sunshield that sits 1/2" off the enclosure. Ultimate security is provided by a three point locking system. Class 250, NEMA 4 rated. The OkSolar series cabinets offers a powder baked cream color option.

Pole or Wall Mounted Cabinets
Used in wall or pole mounted applications, the OKPOk series is a totally weatherproof Class 250, NEMA 4X rated enclosure. Each cabinet is a compact design and features a single door with fixed 19" rails. Also includes pre-drilled holes for connector and power cord access. Apron protects rear connections and fan from rain

Point to Point Multi-Point Radio Cabinet
Aluminum outdoor electronic cabinet with stationary 19" rails, 4 outlet gang box for receptacles, four .65" holes for N -type RF connectors, four 3/4" holes for power knockouts on bottom and two-hole tab electrically bonded to the cabinet chassis. Beige powder coat finish. Front door only. Fan, filter, heating and cooling are optional.
---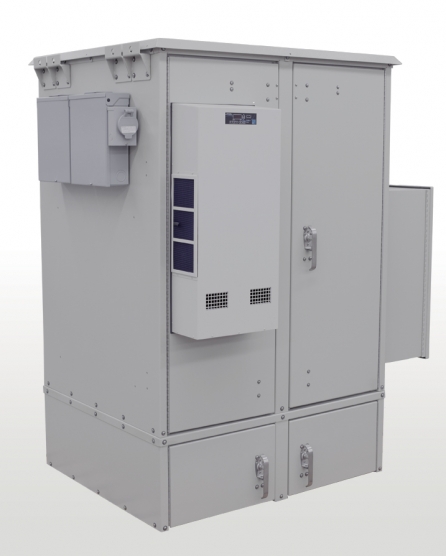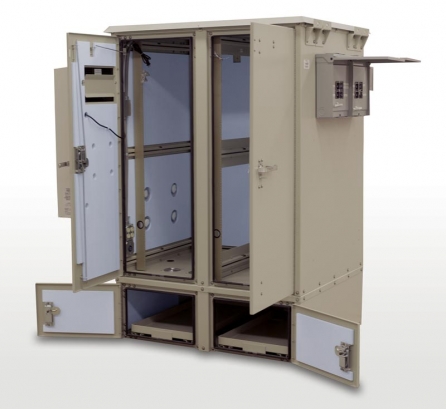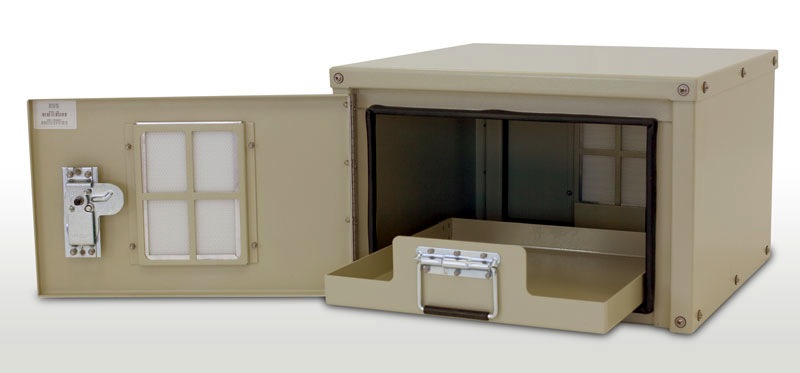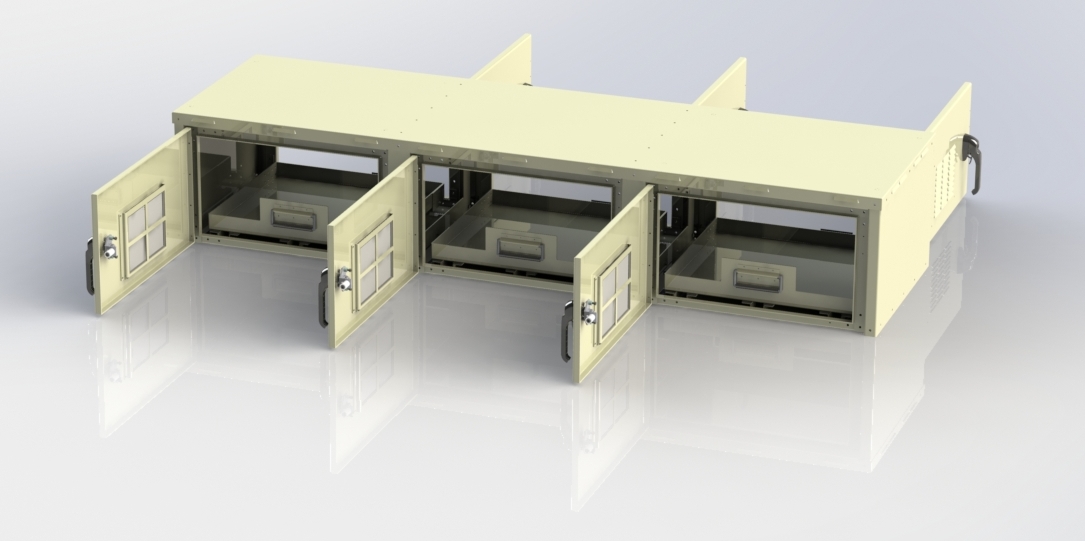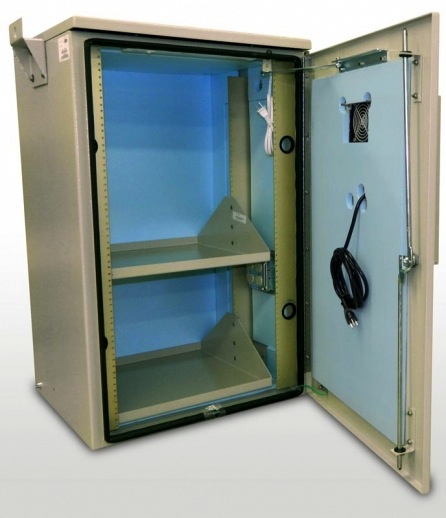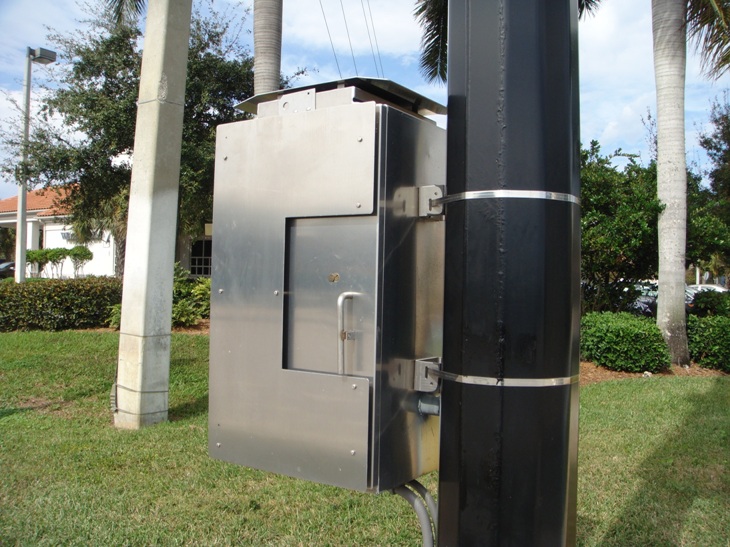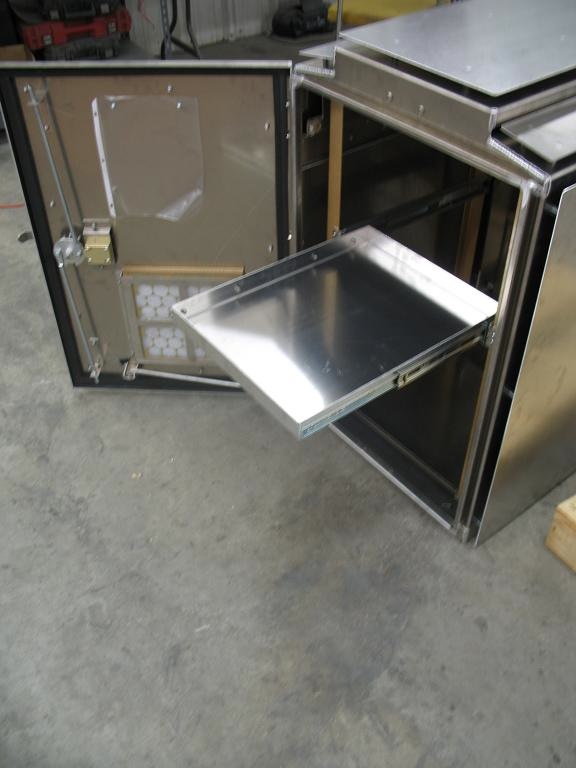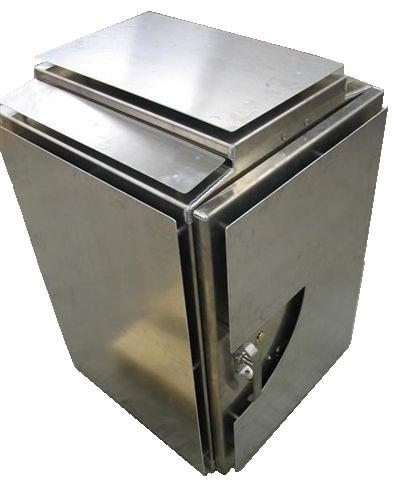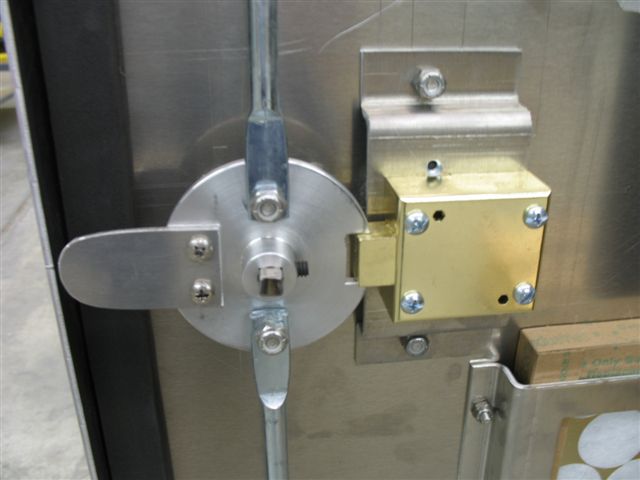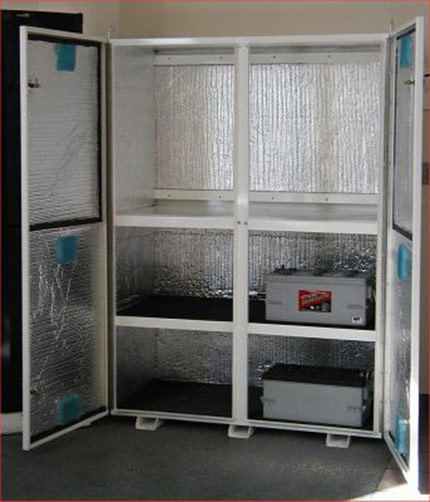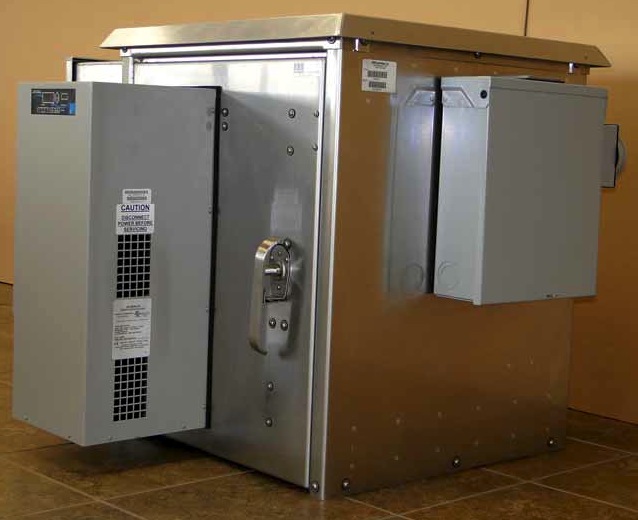 ---
Green Tech Solutions after Natural Disaster
Finding green tech solutions after Natural Disaster, OkSolar "Emergency Energy" has developed renewable energy systems that can deliver resilient and reliable power production during blackout and emergency situations.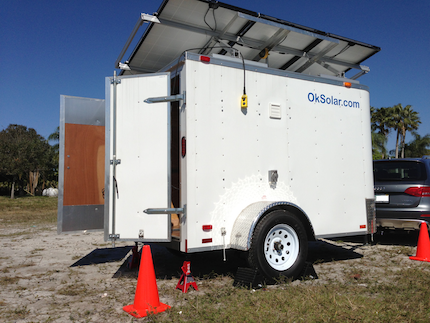 TMPDC® Transportable Modular Solar Powered Storage - Solar Powered Transportable Offices 4-8-16KWh/Day 120VAC 60Hz or 230 VAC 50Hz. single or three faces.

TMSPDC Transportable Modular (Trailer-Modular Power Storage - Offices)
Characteristics: Transportable; Modular; Simple; Rugged; Military Grade. Systems Designed to survive harsh environments.

Special Feature: these units are self-contained inside of a rugged shipping container. The unit remains a 'rugged shipping container' up until the point of deployment, at which time the solar array is exposed and the unit is ready to convert energy from the sun..
Our line of solar transportable power units (TSPDC) provides stand-alone photovoltaic power. These portable units supply AC power just about anywhere the sun shines. Our systems are fully assembled and factory tested for immediate use in the field.Emergency efforts are often hampered by the lack of electricity. Our TSPDC units are designed to fill the gap until power is restored. They can provide refrigeration for medical supplies, water filtration systems can be made operational, and communication equipment can be powered to help in the recovery process.
Our units require only five minutes for one person to assemble:
1. Park the unit (see instruction on solar modules orientation)
2. Switch ON the power unit.
3. Switch ON the lift arms to get to the desired angle of orientation of the Solar Array.
---
Modular electrical energy storage system
This units ensures the integration of renewable energy in the grid, high reliable power supply for grid applications, infrastructure, building and industry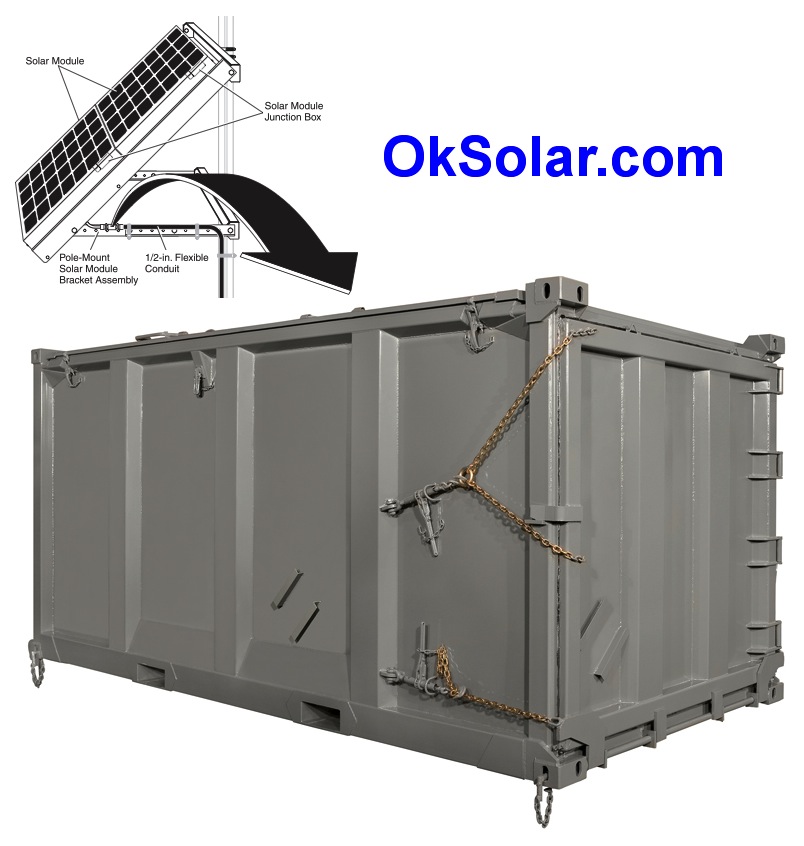 ---
---
Our Systems use State of the Art Plug and Play




---
v 7.07D