Explosion Proof Solar Powered LED Area Light
Explosion Proof Solar Powered LED Area Light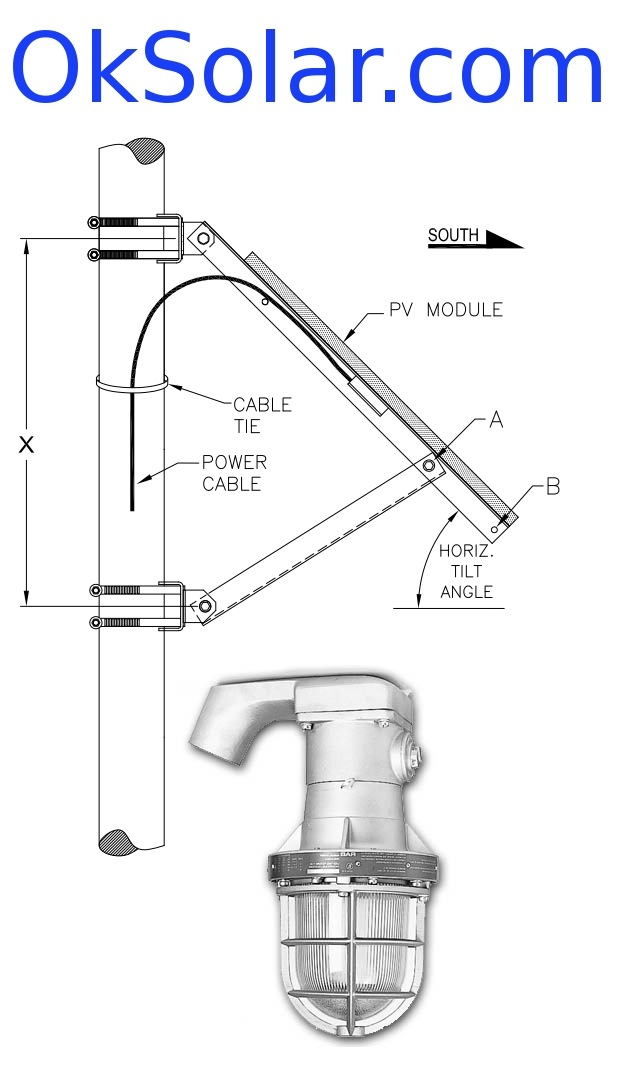 ---
System includes:
-Fixtures: Luminaries IQLED (High Power LED Lamps Long Life) Meets ITE Chromatic and Visibility Requirements.
-Solar Panel.
-Structure for solar panel: Pole mount Adjustable 0-45 horizontal and 360.
-Microprocessor controlled Charge controller and Timer.
-Batteries: Long-Life - Deep-Cycle - Maintenance-Free.
-Detailed instruction manuals included in every system.
Packaging information: Brown Box (Individual Packing for each part and Palletized).

---
SYSTEM OPERATION: The system converts the suns energy into electricity and stores it to provide green illumination plus three days worth of backup energy.

Activation Switch On/Off: A microprocessor automates the functions of the system automatically activates form sunset to sunrise; has a timer, regulating the hours the light stays on; also regulates the battery, preventing overcharging and protecting against discharging.

Optional on/off:
-Remote wireless.
-Remote Broadband Control Monitor and Data Logging Software displays real time and history PV, Battery and Fixture Light.
-Infra red sensors on/off.
-Motion: lights come on when triggered by motion if the level of ambient light becomes low.
-Extend your operating time: dusk to down (14-17 hours) you may have to add plug-in depending on your zone.

---
Technical Information:
-Light Source Type: High Power LED.
-High Power LED Rugged Waterproof Design.
-Color Temperature ( 10%) 5500K - 7000k
-LED fixture rated to withstand mechanical vibration per MIL-per MIL-STD 883, test method 2007, using three 4-minute cycles along x, y and z axis, at a force of 2.5 Gs, with a frequency sweep from 2 Hz to 120 Hz.
-Manufactures in accordance with MIL Specs, ISO 9001:2000, ROHS Compliant parts Quality.
-Solar Cell type: Mono or Polycrystalline
-Battery Type: Deep Cycle Recycle Sealed, Maintenance-Free.
-Reserve: 3 Days under Cloudy conditions (optional 5-7-10 days)
-Temperature of work environment: Optimal Ambient -20 to C (-4 to 77 F).
-Maximum Ambient Temperature: -40 to C (-40 to 176 F).
-Installation recommendation: 80 Feet (25 Meter) distance for each Solar LED Lighting System.
---

Solar Lighting Applications:
-Area Lighting.
-Airport Lighting.
-Hospital Parking.
-Parking Lot lighting.
-Highway Roadway Lighting.
-Street lighting.
-Security Light.
-Highway and ramp lighting.
-Bridge lighting, Under Pass lighting.
-Residential, Industrial, Commercial lighting.
-Military Security Lighting.


---

Benefits:
-Easy installation no wiring required.
-Installing and moving is easy no more waiting for the utility company!
-Proven technology. Vandal and theft-resistant components and hardware. All parts are corrosion resistant.
-Low installation cost.
-Easily and quickly deployed in almost any location.
-NO wiring run from the grid.
-NO cuts through existing roads, sidewalks or landscaping.
-NO Maintenance.
-NO Utility bill.
-Maintenance Free Batteries!
-Big Credits and Savings form State and Federal Taxes.
-Better Color Rendition & Nighttime Visibility.
-No Warm-Up or Cold Start Problems.
-Component lifetime of 25 years.
-Two-year full system warranty.

Reducing glare to increase visibility. Glare from street lights is significantly reduced with the new IQ LED street-light fixtures, increasing visibility by directing light onto the roadway and preventing it from shining into the eyes of motorists.

Reduce excessive lighting and light pollution. New ways of designing and providing street lighting have been developed in the last several years. Luminaires produce high quality white light @ 5500K - 7000k color temperature which greatly enhances the nighttime visibility, color rendition & Scotopic (nighttime) visibility of the human eye.

---
WIND LOADING CAPABILITY Map: Standard mounts are designed to withstand 30 lbs. / ft. 2(approximately 90 mph or 145km/hr.). Designs capable of withstanding greater loads are available upon request. Wind Load: Withstand 150 MPH winds Certified to meet or exceed ASCE-7-05 specifications for 150 MPH, Exposure D extreme wind event!

---
Pole Spacing for Solar Area Lighting. More information on How to determine Pole distance x= Distance in units of Mounting Height

---
Solar Lighting Design Guide The following solar outdoor lighting design tips provide general guidelines for lighting design.
These guidelines may not apply to all applications. Visual is a collection of lighting calculation tools and powerful 3D modeling software engineered to simplify the design process and provide comprehensive analysis for lighting projects.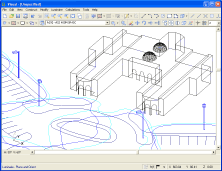 ---