Infrared Human Body detection Sensor Switch
Infrared Human Body detection Sensor Switch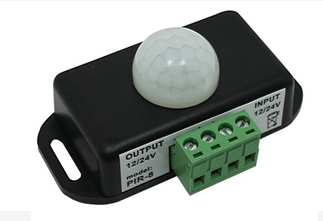 Human body is an infrared detection sensor switch controller, using infrared detection mode control load switching.
Technical parameters
●Working temperature:-20-60℃ ● Input:10.5-16V or 21-32V
● Output:10.5-16V or 21-32V
● Output:1 Loop
● Sensing distance: 8 M
● Sensing angle:60 degree
● Output current:<6A
● Delay time::1—10 min(adjustable)
● Product size:L76ΧW45ΧH34 mm
● Packing size:L104ΧW64ΧH41mm
● N.W.:32g
● G.W.:50g
Instructions for use:
1, first connect the load line, connect the power cord; cable before power to ensure that no short circuit between the phenomenon;
2, the controller back with a time setting knob, turn the knob to the switching delay can be set separately off the number of minutes when the detected light load when someone lights up when people leave after a set number of minutes, the load lights automatically turn off.
3, the controller output signal line and input line should be connected correctly.
---
Click here to see more in this Category.
---
Dimensions and Weight
Length: 76 mm in.
Width: 35 mm in.
Height: 34 mm in.
Shipping Weight: 1 lbs.