Solar Taxiway Lighting Blue
Solar Taxiway Lighting Blue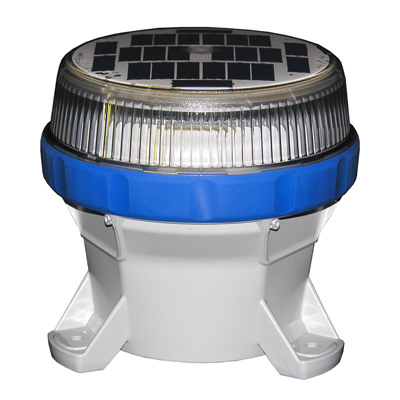 Solar Taxiway Lighting Blue, Solar Taxiway and Apron Airfield Lighting FAA/ICAO NON-Wireless
PHOTOMETRICS TAXIWAY SPECIFICATION AND FEATURES: Wireless
Ensure the safe ground movement of aircraft at all times with Carmanah taxiway and apron runway edge lights. Our high-performance, low-maintenance and easy-to-install lights offer a level of sophistication and intelligence that is unrivalled by any other solar airfield lighting solution on the market
• UP TO 10 CD OF INTENSITY
• REPLACEABLE AND RECYCLABLE BATTERY PACK • DUSK-TO-DAWN OR ON-DEMAND OPERATION
• NVG-COMPATIBLE IR OPTIONS
• INTELLIGENT DEPLOYMENT LOCATION SETTINGS
Applications Taxiway and apron edge Construction, barricades, and fences Temporary or permanent markings Helipads Hazard marking
• Easy installation and relocation: no specialized work crew required, limited air traffic disruption and lights are immediately operational. The A650 can also be quickly relocated for temporary or emergency applications.
• Self-contained and low maintenance: all components are incorporated within a compact, stand-alone unit. The A650 also features a replaceable battery pack that extends the service life beyond five years, reducing the total cost of ownership and resulting in significant cost savings.
• Intelligent settings: the first solar product to incorporate intelligent deployment location settings that allow the A650 to be tuned to its location, protecting it against improper configuration.
• Unprecedented Reliability: microprocessor Energy Management System (EMS) monitors and adapts the brightness to environmental conditions for consistent operation and long life under the toughest conditions.
• Designed and tested to toughest industrial standards: MIL-STD-202G: Humidity, Immersion, Vibration, Shock; MIL- STD-810G: Solar Radiation, Salt Fog; EN 60945: ESD, EMI, EMC; IP68; L70. The A650 is acceptable for barricade and construction applications at Commercial Part 139 Airports under FAA Advisory Circular AC 150/5370-2E. The A650 Wireless Blue is compliant with the requirements of ICAO Annex 14, Volume 1, Fifth Edition dated July 2009.
• User friendly: easy configuration and programming options including: on-board user interface, infrared remote and Device Manager software through USB connection or optional wireless control system offering secure 900 MHz.
---
---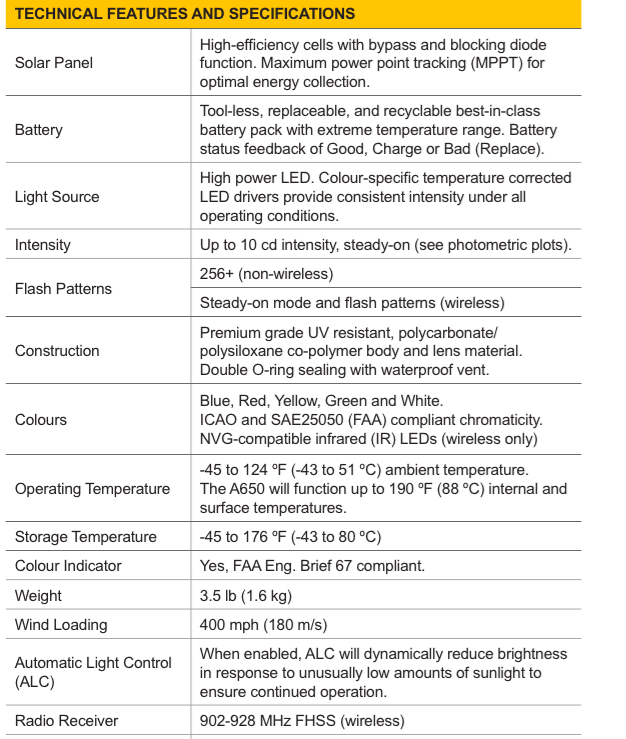 ---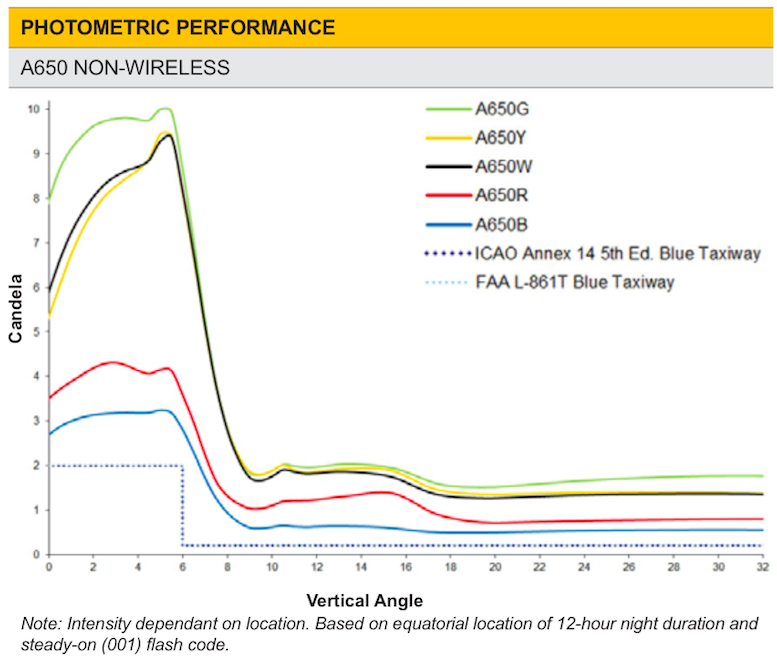 ---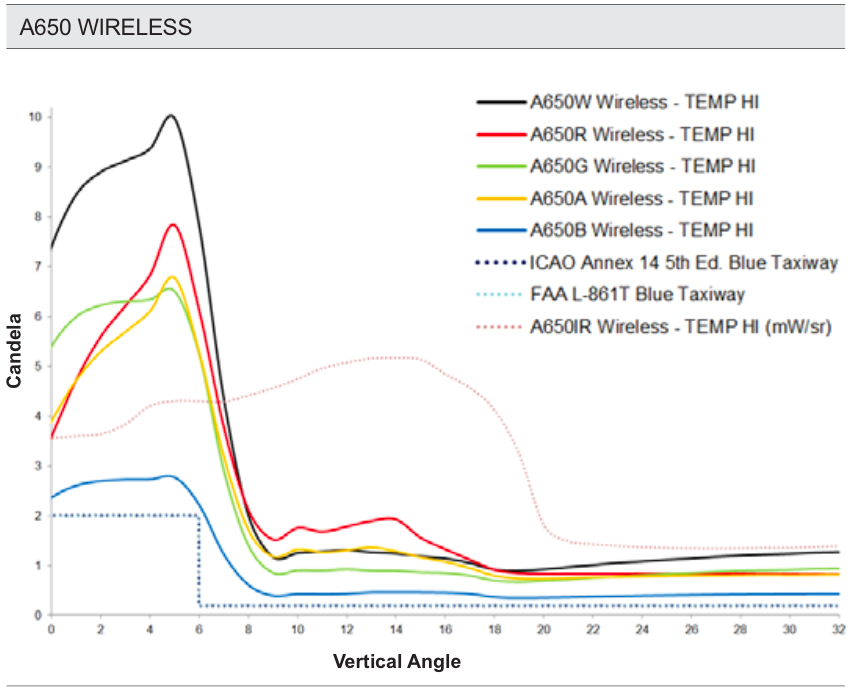 ---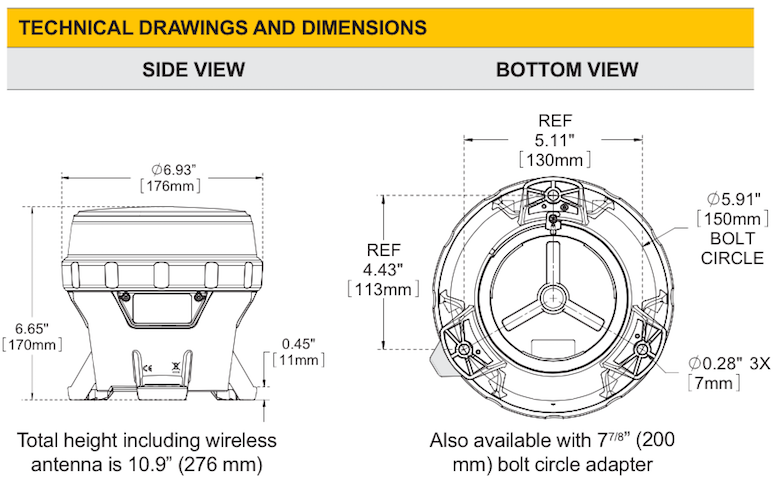 ---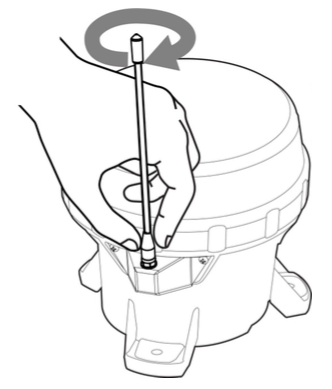 ---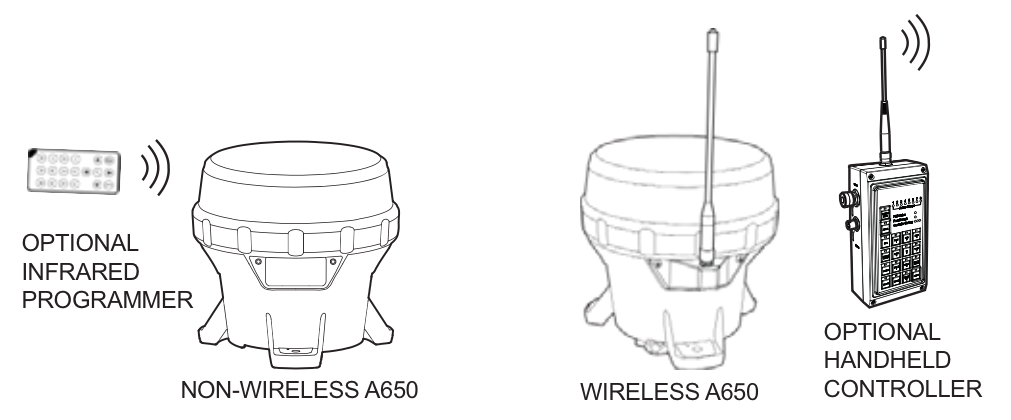 ---
Dimensions and Weight
Length: in.
Width: in.
Height: in.
Shipping Weight: 12 lbs.