Stake mount kit Frangible Mounting
Stake mount kit Frangible Mounting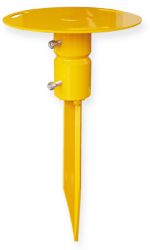 Stake Mount kit Frangible Mounting Accessories
light mounting plate, frangible sleeve, ground stake and 316-grade stainless steel hardware. All components (excluding hardware) are made from heavy-duty aluminum, subject to 7-stage powdercoating in high-visibility yellow color.
The frangible (breakaway) coupling has been independently tested to comply with FAA Advisory Circular No 150/5345-46B Specifications for runway and taxiway fixtures
Frangible stake mount set complete
7-stage powder-coated heavy duty aluminum
Dimensions and Weight
Length: n/a in.
Width: n/a in.
Height: n/a in.
Shipping Weight: 12 lbs.