Solar Speed Trailers Your Speed
Solar Speed Trailers Your Speed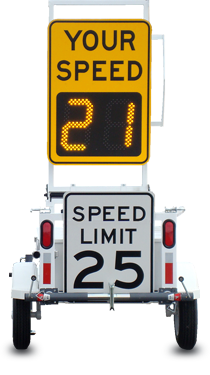 Solar Powered Speed Trailers
Designed Lightweight for quick deployment of the Radar Display signs
Radar Speed Signs Solar Powered - Your Speed Speed Awareness Portable, is a self contained, water resistant, radar and speed display designed to measure and display the speed of vehicles.

Specifications

-Miles Per Hour (mph) or Kilometers Per Hour (km/h)
-Aluminum protective cover: 0.25" (d)
-High-Intensity prismatic reflective sheeting on "YOUR SPEED" signs with black colored text
-MUTCD approved colors and format
-Operating Temperatures F (C): -40 (-40) to 185 (85)
-Conformal coating on all circuit boards

Power input:
-Self Contained Solar Powered.


-Power Efficiency:

-Low power SS300 radar drives display eliminate extra CPU.
-Built in ambient light sensing and automatic brightness control.
-Ambient temperature compensation of LED drive voltage.
-High efficiency boost regulator for LED drive voltage.
-With no traffic present, radar automatically powers down display, reducing power consumption to 0.1W.

Radar
-Internal Radar: SS300 Doppler (FCC approved).
-Radar RF out: 5 mW maximum.
-Radar f-center: 24.125 GHz or 24.200 GHz.
-Pickup distance: Up to 300 feet.
-Beam angle: 38 x 45.
-Beam polarization: Linear.
-FCC ID (Radar): TIASS300.
-CE Mark (Radar): Yes.

Display

-LEDs 208:
-Digits: 196 Amber, 15 degrees, 5 mm, luminous Intensity (4180 - 8200).
-Speed Violator Strobe: 12 White, 15 degrees, 5 mm , luminous intensity (4180 - 8200) o Optical lenses: 208 lenses

Display Brightness:

-11,000 nits (cdm) maximum.
-550 nits (cdm) at night.
-Ambient light sensor and automatic brightness adjustment.

Enclosure
-12 gauge aluminum, flat black powder coated front for reduced glare and maximum contrast; light gray powder coated body to minimize heat absorption o Weatherproof, NEMA 4X-12, IP65 level compliant.
-Non-sealed and ventilated.

Communication:

-Direct connection to PC through RS232 Serial Port connection.
-USB to Serial port adapter cable (included) Programming.
-Management Software application.
-On-board, programmable Rotary Switch.

Display Settings:

-Display On/Stealth Modes (In Stealth Mode, speed is not displayed but data is collected) o Display Minimum Speed, Display Maximum Speed.
-Digit Flashing Speed Threshold (digits flash above selected speed).
-Speed Violator Strobe (pulsing strobe flashes with digits or alone above Display Maximum Speed).

Data Collection and Statistical Analysis & Reporting (optional feature)

-Traffic data collected and stored by location.
-Stealth Mode (capture baseline traffic data with speed display off).
-Download through Serial Port connection.
-Statistical Reporting & Charts.
-o Summary Reports
-o Weekly Reports
-o Period Comparison Reports
-o Reporting Parameters:
-Average Vehicle Count.
-Total Vehicle Count.
-Average Speed.
-Average Number of Speed Violations.
-Total Number of Speed Violations.
-Minimum and Maximum Speed.
-85% Speed.
-Counters by Speed Bins.
-5 MPH Bin Resolution.
-Reports print directly or can be exported into CSV format, MS Excel, Adobe Acrobat PDF and HTML.
-Charts may be printed directly or converted into Adobe Acrobat PDF and picture formats.


Dimensions and Weight
Length: 110 in.
Width: 51 in.
Height: 95 - 115 in.
Shipping Weight: 750 lbs.