MD57 Solar Battery Charger Kit
MD57 Solar Battery Charger Kit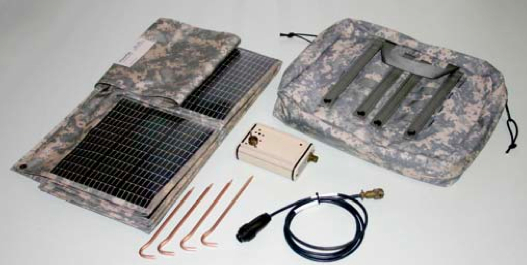 MD57 Military Foldable Solar Panel Solar Battery Charging Kit, Single Unit Charger is available to charge the following types of batteries:
UBI-2590 (UBBL02) Rechargeable Lithium-Ion
UBI-2590 SMBus (UBBL10) Rechargeable Lithium-Ion
UBI-2590/HC SMBus (UBBL13) Rechargeable Lithium-Ion
BB-390/U Nickel Metal Hydride
BB-590/U Nickel Cadmium
BB-2590/U Rechargeable Lithium-Ion
The Picture its the representation of a complete Kit:
MRC-KT0002 is a Solar Battery Charging Kit which consists of the following equipment:
MRC135A-00-01
MRC135A-32-02
MRC135A-32-01
PCP279-00-01
H95-0010-001
MRC-135A Charger Solar Panel (MD57)
Soft Case for MRC-135A
Solar Cable Assembly
Tent Stakes
---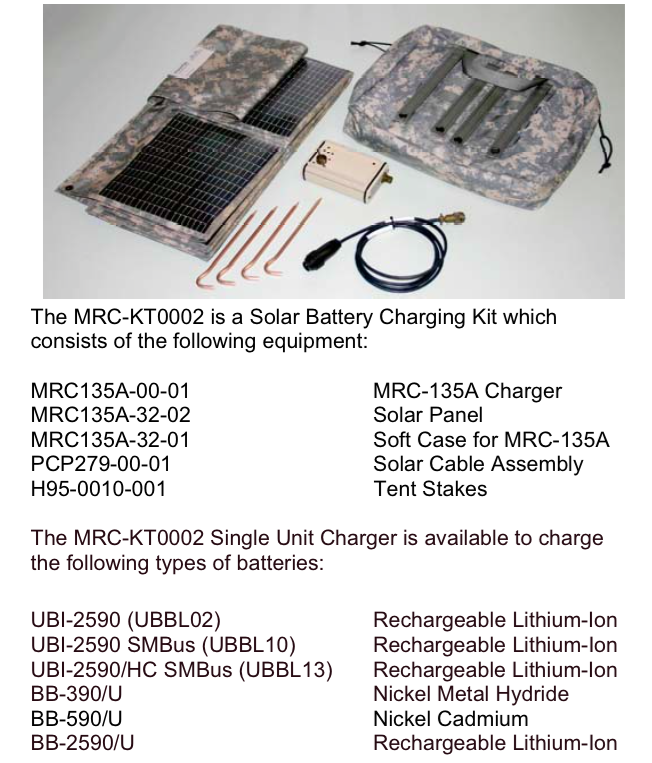 ---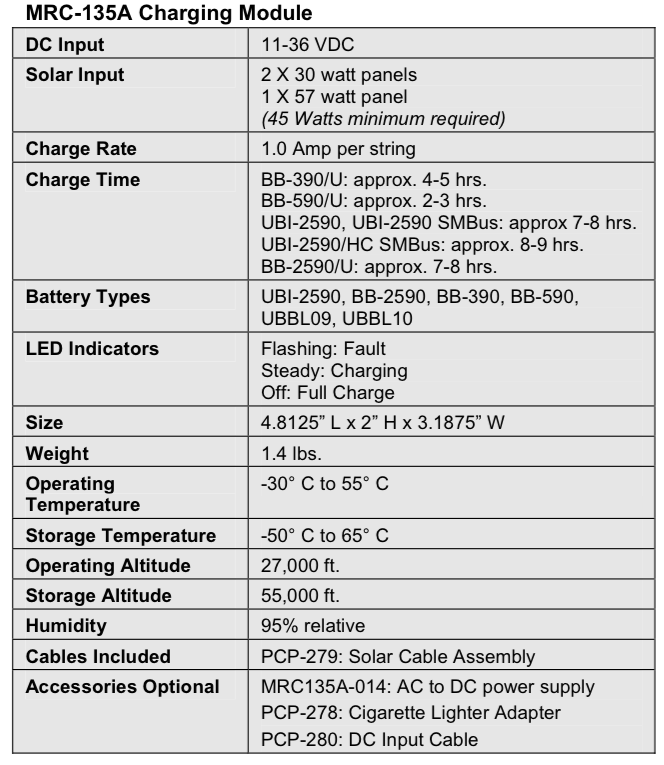 The Smart Charge module in the MRC-135A charger detects open or shorted cells and will not allow the charge to continue should a fault be detected. The two strings of cells in the batteries are individually charged to prevent cell imbalances and assure a positive recharge of the battery.
Dimensions and Weight
Length: n/a in.
Width: n/a in.
Height: n/a in.
Shipping Weight: 20 lbs.