L852 Led Based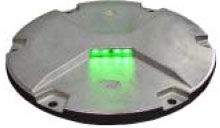 LED Based Inpavement taxiway centerline fixtures are designed for use for all airports requiring taxway centerline. The fixture is used to denote the centerline of a taxiway for all airports that have Catagory I, II, or III landing capabilities.
Dimensions and Weight
Length: 5 in.
Width: 5 in.
Height: 2.5 in.
Shipping Weight: 5 lbs.