Taxiway Centerline Light-LED L-852 Green/Blank
Taxiway Centerline Light-LED L-852 Green/Blank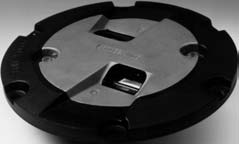 Taxiway Centerline Light-LED Taxiway Centerline Light-LED Compliances: FAA AC 150/5345-46B: L-852 A and C USAF Regulation AFM 32-1076: Table 5.1 Taxiway Centerline Light-LED Applications The TCL is a taxiway centerline light that is used primarily as a ground traffic aid during periods of low visibility to guide aircraft between the runway and the parking stand. The TCL is often a bidirectional light, but it also may be a unidirectional light on certain taxiways, such as high speed turnoffs.
Dimensions and Weight
Length: n/a in.
Width: n/a in.
Height: n/a in.
Shipping Weight: 25 lbs.