Solar Marine Lights Blue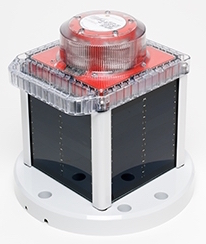 Multipurpose solar-powered marine light suitable for virtually any navigation or hazard-marking requirement some applications are: Aids to navigation, Port and marina entrances, Channel and canal markers, Offshore oil & gas infrastructure, Research buoys, Public piers, docks and marine walkways, Boat and barge terminals, Breakwaters and all types of marine infrastructure Solar Marine Lights M850: Over 7 NM (3-6 NM in all Colors)
M850: Over 7 NM (3-6 NM in all Colors)
The M850 combines a compact, high-efficiency solar engine with premium components and a rugged design for best-in-class performance at an optimal price. This small format lantern delivers up to 445 cd (IALA peak, white) and can achieve up to 7.5 NM range at T=0.74
Feature:
Up to 7.5 NM Range (T=0.74)
Up to 10.3 NM Range (T=0.85)
Up to 445 peak cd (White)
Top-mounted, "tap-to-activate" 4-character LED display.
Easily check light settings without an external controller
Built-in calendar function; de-activate and re-activate according to seasonal requirements
Simplified programming. Optional mini remote with navigational keys. No transitioning required
Multiple divergences for fixed or floating installations (8º or 10º)
60 and 90 Wh battery pack options.
Optional GPS synchronization
Specifications:
Solar Panel High-efficiency cells. Maximum power point tracking (MPPT) for optimal energy collection
Battery Multiple: best-in-class battery pack options. 96 or 200 Wh. Extreme temperature range
Light Source : High Flux Surface Mount LEDs with colour-specific temperature-corrected LED driver provides consistent intensity under all operating conditions
Maximum Peak Intensity: (IALA peak) 445 cd (White LEDs), 320 cd (Yellow), 290 cd (Green), 239 cd (Red)
Vertical Divergence: 8° or 10° (FWHM)
Flash Patterns : 250+ (including steady-on and custom codes)
Construction: Premium grade UV resistant, polycarbonate lens/head and polycarbonate/polysiloxane co-polymer base. Thermoplastic gaskets. Waterproof vented battery compartment.
Colour-coded lantern head indicates LED colour.
Operating Temperature -22 to 122 °F (-30 to 50 °C)
Storage Temperature: -40 to 176 °F (-40 to 80 °C) Not including batteries.
Mounting: 3 or 4 bolt 7.87" (200 mm) mounting pattern
Wind Loading: 140 knots (72 m/s)
Ice Loading: 0.03 psi (22 kg/m2)
Automatic Light Control:
(ALC) When enabled, ALC will dynamically reduce brightness to unusually low amounts of sunlight to ensure continued operation.
Programming:
Programmable with optional infrared programmer. Mini remote design with additional navigation keys.
Ingress:
IP 68
MIL-STD-2020G immersion & damp heat cycling
Mil-STD-810G rain & salt fog
GPS Synchronization:
Optional GPS enables two or more lanterns to flash in unison
Compliance:
USCG PATON 33CFR66 & CFR67 Class C
UL 2108, CSA C22.2 No.250.0, RoHS, WEEE
---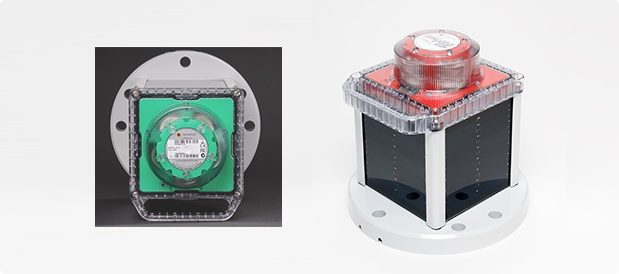 ---

---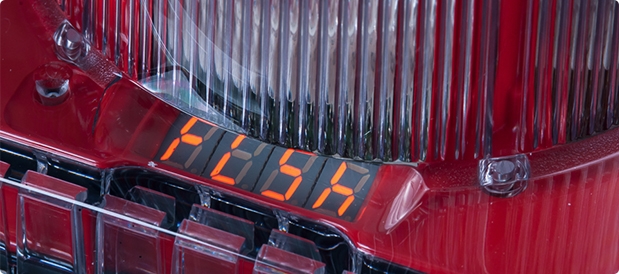 ---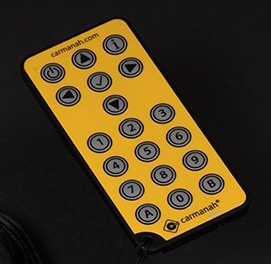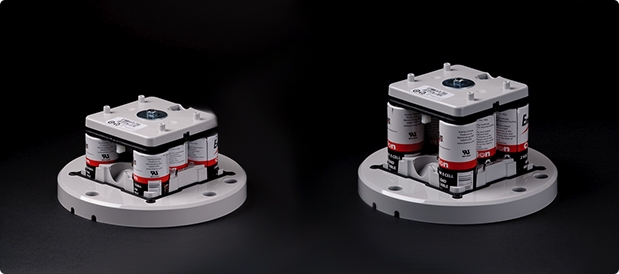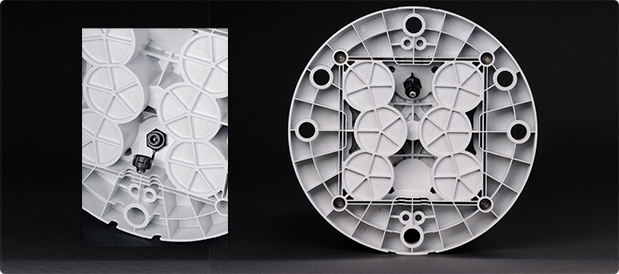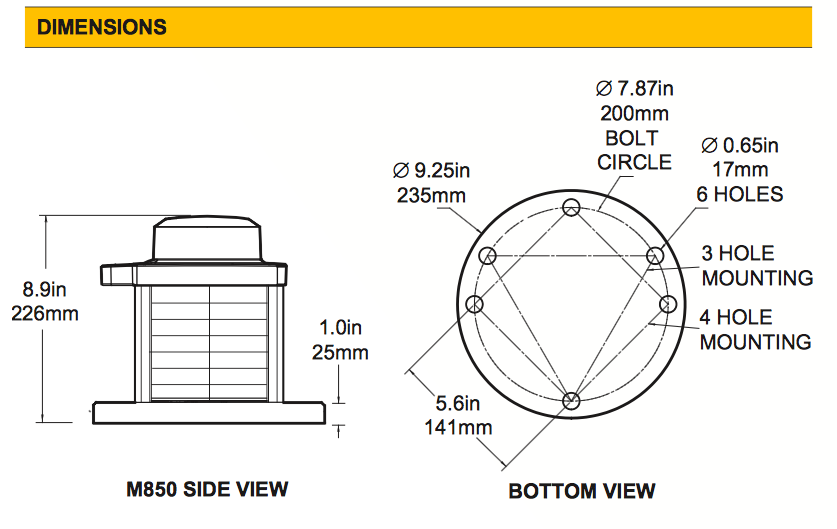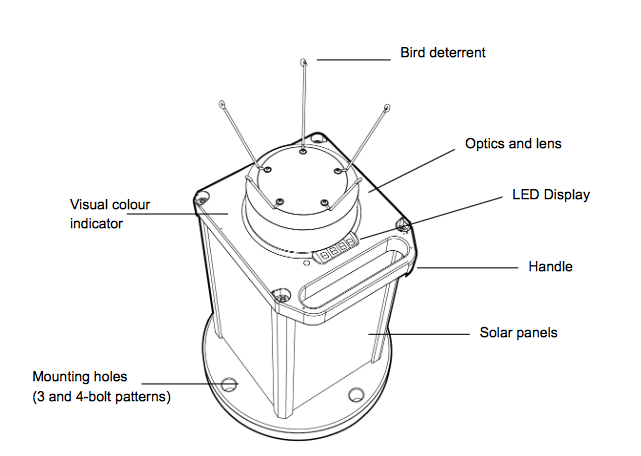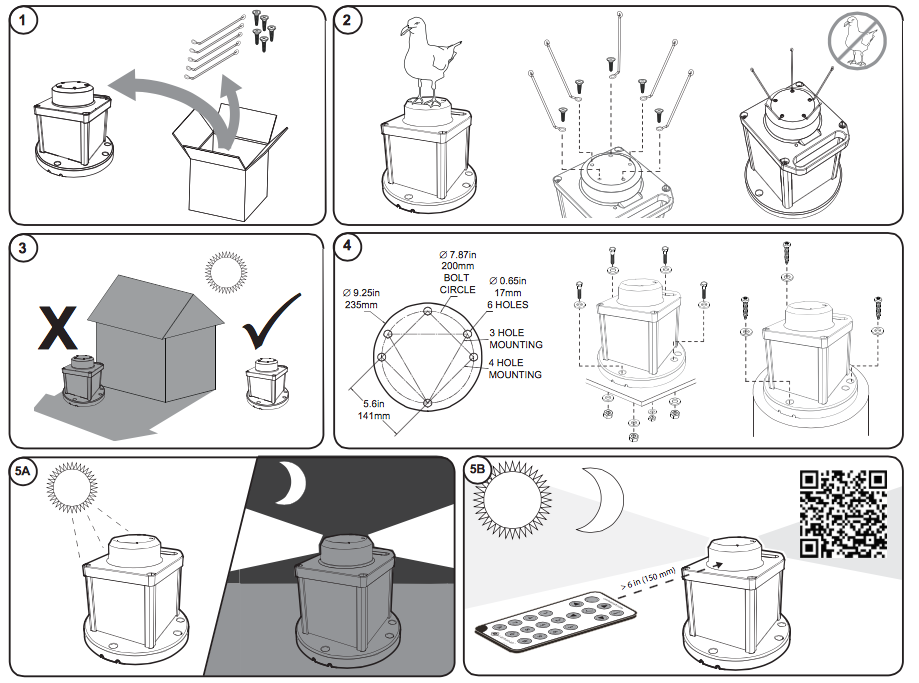 Dimensions and Weight
Length: 16.00 in.
Width: 4.00 in.
Height: 4.00 in.
Shipping Weight: 21 lbs.