Timer/Controller 365 Day 24 Hr.
Timer/Controller 365 Day 24 Hr.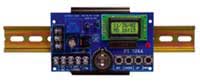 Overview Model is an extremely versatile 24 Hour 365 Day Event Timer designed to support a wide range of applications. Such applications include: Home and Building Automation, Security, Access Control, Lighting Control, Etc. Specifications: • 12 to 24 volts AC or DC operation • Standby current: 10mA (relay off) 50mA (relay on). • Battery charging current: 100mA. • Form "C" relay contacts are rated 10amp @120VAC/28VDC. • EE Prom memory protects against loss of programming due to power failure. • Accurate crystal controlled clock. • Momentary and/or Latching Events. • 50 individually programmed daily/weekly events. • Block programming capacity can accommodate a total of 350 events per week. • 10 programmable Holiday dates. • "First man in" option. • Alphanumeric LCD display simplifies programming. • Standard or Daylight Savings Time settings. • Automatic compensation for leap year. • Built-in charger for 12VDC sealed lead acid or gel type batteries (Max charge current 100mA). • Lithium battery backup maintains clock (optional). • User friendly programming.
Dimensions and Weight
Length: 5.25 in.
Width: 3 in.
Height: 1 in.
Shipping Weight: 7 lbs.