Marine Solar Battery Charger 20 Watts
Marine Solar Battery Charger 20 Watts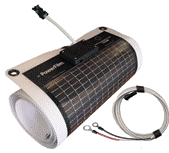 Rollable 20 Watt Solar Battery Charger
water-proof Rollable Solar Powered Battery Chargers can be used to charge cellphone, camera, and iPod batteries and more - or use as a trickle-charger for a 12V battery. Made with professional marine-grade components and rugged UV-stabilized materials.
Now comes with RA2 Female lighter adapter and cable with O-rings.
Dimensions and Weight
Length: n/a in.
Width: n/a in.
Height: n/a in.
Shipping Weight: 16 lbs.