Heliport Light Perimeter & Floodlight 120V Green
Heliport Light Perimeter & Floodlight 120V Green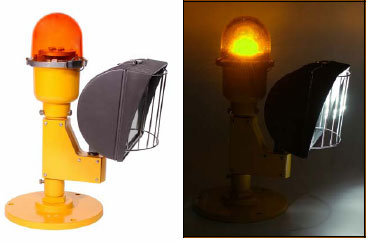 LED Heliport Light - Heliport Light Floodlight
?The voltage powered elevated heliport floodlight includes an LED heliport perimeter light of and a floodlight intended to "wash" the pad with light. The heliport floodlight is a combination of the LED heliport elevated edge light and a quartz halogen floodlight.

Medium intensity elevated helipad perimeter light and a floodlight intended to "wash" the pad with light. Perimeter light consists of a Fresnel lens mounted on a powdercoat painted cast aluminum housing secured by stainless-steel clamp band. The fixture body finish is aviation yellow and the floodlight housing is dark bronze anodized.

Upper assembly mounts to the die-cast aluminum FAA certified standard breakable coupling. The floodlight includes a metal stone guard to protect the lens. The overall height is 15-inches making it compatible with standard height that may be used together on the same helipad perimeter. The yellow perimeter light and the clear floodlight may be separately circuited if independent control is required.
Dimensions and Weight
Length: n/a in.
Width: n/a in.
Height: n/a in.
Shipping Weight: 30 lbs.