Solar Taxiway Edge Light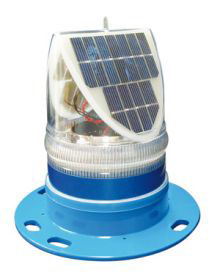 Solar Taxiway Edge Light Blue omni-directional LED taxiway edge light independently certified to conform with ICAO requirements. The OKAV-70T is a portable solar powered stand-alone unit, and will provide years of zero-maintenance service. Awarded an Australian Design Mark at the 2003 Australian Design Awards, the unit is unrivalled in its design, operation and reliability. In addition, the OKAV-70T remains on permenant display at the Powerhouse Museum for Science and Technology in Sydney, Australia. With an integrated solar / battery system, the light requires no external wiring - saving thousands of dollars in installation costs. During daylight hours the solar module will continually charge the battery, and the light will turn on automatically at night.
Dimensions and Weight
Length: in.
Width: in.
Height: in.
Shipping Weight: 16 lbs.