Solar LED Airfield Lighting OKAV-60B
Solar LED Airfield Lighting OKAV-60B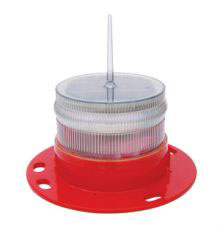 Solar-powered steady-burning barricade light, designed to be completely maintenance-free and have a service life of over 5 years. The unit is considerably larger than the OKAV-15B, providing a greater visibility and can be operated in almost any region. The light is simply switched 'on', and the unit is ready for immediate operation. Once installed, operation of the AV60 requires no operator intervention. During daylight hours the solar module will charge the battery, and the light will automatically begin operation at dusk – once the ambient light threshold drops sufficiently. Coupled with LED technology, and a highly efficient DC/DC converter, the light may provide over 15 days of continuous operation without sunlight.
Dimensions and Weight
Length: in.
Width: in.
Height: in.
Shipping Weight: 12 lbs.