OkSLB-700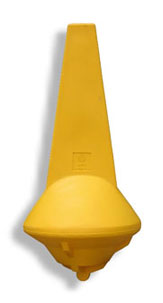 OkSLB-700 is a short-range buoy ready for immediate installation. Typical applications include day and night channel, speed zone, restricted area marking and aquaculture.

The OkSLB-700 is extremely long-lasting, and is moulded in strong, durable U.V. stabilised polyethylene. The base of the buoy is cement-ballasted, and the top section is polyurethane foam filled, providing excellent buoyancy and stability. A large mooring chain attachment point accommodates a 16mm shackle or 12mm silver rope.

The OkSLB-700 incorporates an interconnected mooring and lifting eye for additional strength, and enables a wider range of installations than the smaller OkSLB-600. The OkSLB-700 is substantially larger to the OkSLB-600, with approximately twice the buoyancy. The top section of the OkSLB-700 has 3 threaded studs, moulded into the buoy to enable easy mounting of either the OkSL15 1nm or OkSL60 2nm Solar Lights.
Dimensions and Weight
Length: 49 in.
Width: 23 in.
Height: in.
Shipping Weight: 42 lbs.