Double Bay Outdoor Enclosure 78"
Double Bay Outdoor Enclosure 78"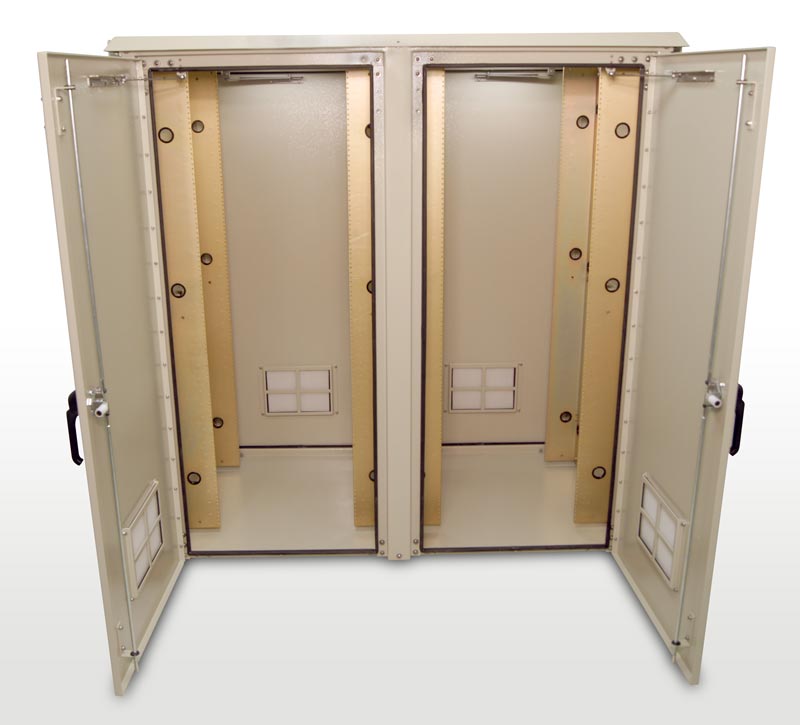 Specifications – 78″H X 59″W X 25″D (60 RU) Double Bay Outdoor Enclosure
Weight
225 lbs. Assembled
325 lbs. Shipping weight
Doors: Four – secured by three point locking system
Locks via customer supplied padlocks
EMKA Wind Lock on Each Door
Sealed with .875″ aluminum filled gaskets
Material
Finish: Flat aluminum
RF properties: Non-ferrous
Vents: Thirty bottom louvers per door
20 top louvers – In top cover-under Alumishield®
One removable filter panel per door
20 fixed filter pads in top cover
Handles: Zinc Die Powder-coated Black EMKA Three Point
Padlocking Handles
Lifting Hooks
Four Standard
Exterior Screws: Stainless steel with NEMA washers & nylon locking nuts
Racking Specifications Rails
Two sets standard (For additional rails see accessories) Alodine coated
Holes tapped to 10 x 32 threads
Each rail supported by two R-STRUTS™
Rails will have the face utilizing 19″ racking and the mounting side to utilize 23″ racking. The left rail (19″ rack showing) will have two ground studs attached to the mounting face coming inward. There will be a hole at the top of each face of each rail for an optional ground strap. Rack units will be marked with etching depicting each RU and will have both a hole and etching separating each RU. The rails will be adjusted to fit inside an cabinet that has an extra 4″ of width. The mounting holes will be adjusted to fit the new r-strut configuration. There will be 1.75″ passthrough holes between the RU-03 and the RU-04 marks on the face with the 23″ racking. Another 1.75″ passthrough will be on the face with the 19″ racking between the RU-04 and the RU-05 marks. Use Heyco 28882 snap bushing or equivalent in the 1.75″ cable passthrough holes. Hash Marks will seperate the RU's.
Ratings: NEMA Class Class 250 // 3R (Vented) // 4 (closed loop-a/c) // 4X
Paint Tested
1000 Hour salt spray
1000 Hour immersion
Warranty
Period: 15 Years – Unconditional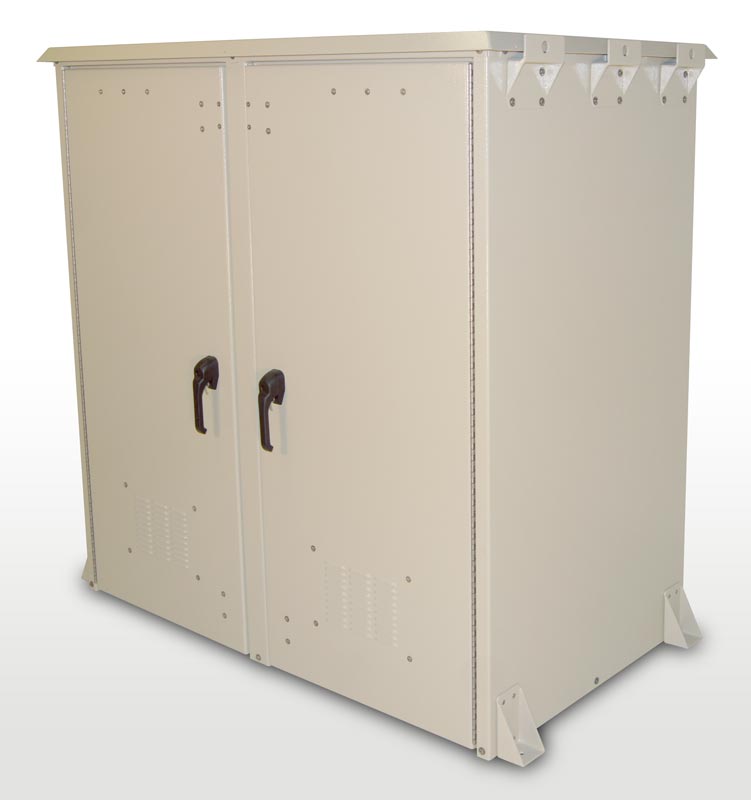 ---
Racking Spec Layout.
STANDARD EIA 19″ Racking.
EIA-310 is a specification for what is often called the "standard rack". This specification standardizes several important features of 19″ racks, such as the Rack Unit (RU or U), vertical hole spacing, horizontal hole spacing, rack opening, and front panel width. The specification also set tolerances on each of these dimensions. The EIA-310 specification has been the 19″ racks standard for equipment for 50 years. The items that the specification does not cover are the real reason for the industry wide incompatibility we now face. Rack features such as hole type, rack mounting depth, front and rear space, and obstructions between front and rear rails are the cause of real rack headaches. Vertical Hole Spacing Vertical hole spacing is defined as a repeating pattern of holes within one Rack Unit of 1.75″. The hole spacing alternated at: 1/2″ – 5/8″ – 5/8″ and repeats. The start and stop of the "U" space is in the middle of the 1/2″ spaced holes. See the diagram below. Horizontal Spacing The horizontal spacing of the vertical rows of holes is specified by EIA-310 at 18 5/16″ (18.312)(465.1 mm). This dimension is not well maintained on some racks, causing problems with equipment installation. Many manufacturers use equipment mounting slots instead of holes to allow for variations in this dimension. Rack Opening The opening in the rack is specified as a minimum of 17.72″ (450mm). 2Post or relay racks tend to have a larger than normal opening, as do many other racks with threaded holes. Square hole racks tend to be very close to the minimum opening. Front Panel Width.The only dimension on a 19″ rack that actually measures 19″ is the width of the front panel of equipment.
---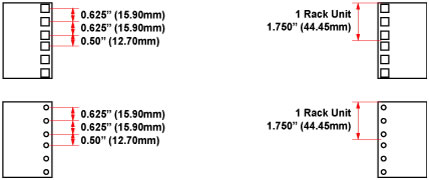 ---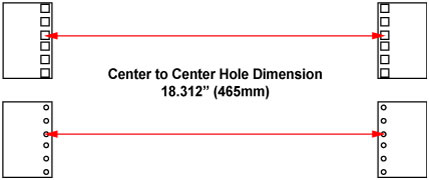 ---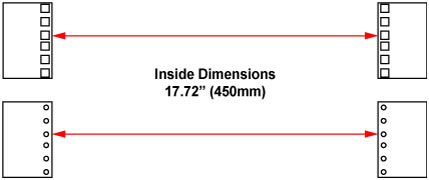 ---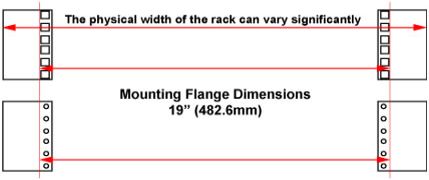 ---
Dimensions and Weight
Length: 25 in.
Width: 59 in.
Height: 78 in.
Shipping Weight: 495 lbs.