Power Distribution Metered 1U 13 Outlets 15 Amp
Power Distribution Metered 1U 13 Outlets 15 Amp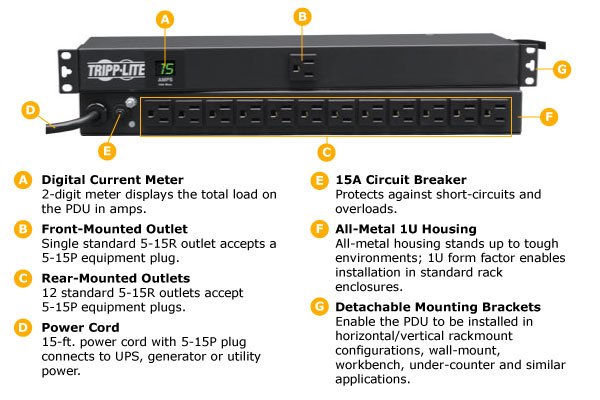 Metered unit is ideal for distributing and monitoring power from a UPS system, generator or utility wall outlet in high-density IT environments. It provides 13 outlets (1 front-facing, 12 rear-facing) plus a digital meter that displays continuous power consumption data for the entire PDU, enabling IT personnel to monitor the unit load on site. The unit features an all-metal housing with detachable mounting flanges and a switchless design to prevent accidental shutoff. It is configurable for 1U rack mount (horizontal), 0U (vertical), wall-mount, workbench, under-counter and similar installations.
Dimensions and Weight
Length: in.
Width: in.
Height: in.
Shipping Weight: 16 lbs.