LTE Wimax 4G Enclosure Direct Air Cooled
LTE Wimax 4G Enclosure Direct Air Cooled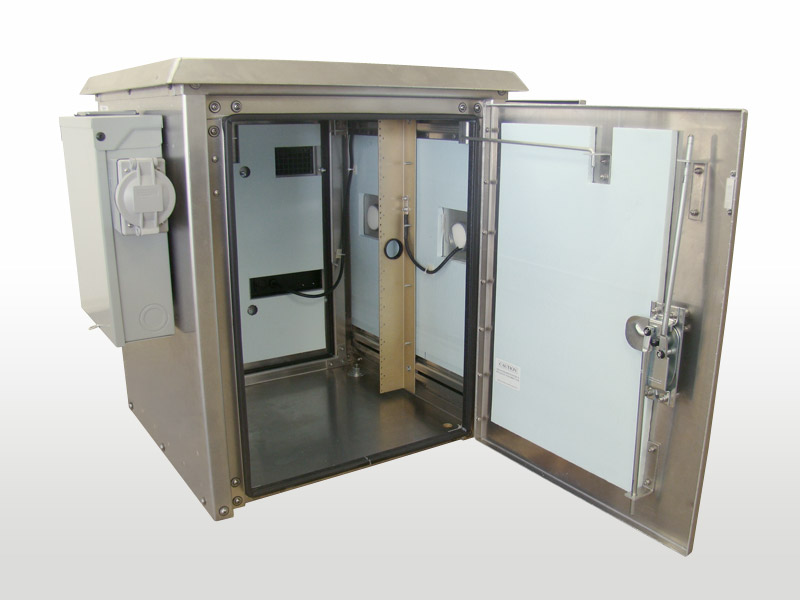 UL & CSA Certified
30inchesH X 25″W X 25inchesD(19inches Racking)
2400 BTU 230 Volts with 400 Watts of Heat
Ext. Generator Plug
Door Alarm Switches
Fluorescent Light
Spool-Up Side Box
Ground Bar
R3.3 Insulation.
These communication cabinets have a superior design, being as rigid as steel and yet noticeably lighter than the old heave steel constructed cabinets. This is made possible with our own aluminum recipe called Alumiflex®. It offers the protection needed for any severe outdoor environment. It's constructed of .125" Alumiflex® material and comes with an additional " Alumishield® top cover, thereby fully protecting your equipment from falling ice and the sun's heat penetration. Ultimate security is provided by a three point locking system, which utilizes NEMA stainless steel padlocking handles. It's made of Alumiflex®, will operate without affecting, or being affected by, RF influences. Outdoor cabinets are becoming the alternative shelter solution for today's complicated zoning requirements. So whether you're installing a new shelter or adding room to your existing one, It's the ultimate solution.
OUTDOOR ENCLOSURE, UNPAINTED
30"H X 25"W X 25"D
FRONT AND REAR DOORS WITH 3-POINT LOCKING HANDLES, PADLOCKABLE
1- SET OF 19" RACK RAILS, CENTER SET
1- LIGHT BAR , CEILING MOUNTED.
1- AC-2400I2-H, HARD WIRED TO ITS OWN 20 AMP BREAKER. INSULATED.
1- SET OF 2-POLE DOOR ALARM SWITCHES AND EXCESS WIRING COILED.
LC-100 WITH 100AMP MAIN BREAKER, 30AMP GENERATOR BREAKER, QUAD 30/20 BREAKER. SINGLE POLE 20AMP BREAKER FOR THE AC UNIT.
1- OF EACH: POPULATED 4 SQUARE AND 220V TWIST LOCK, JUNCTION BOX AND ASSOCIATED CONDUIT.
1- SB-262210 SIDE BOX WITH REMOVABLE PLYWOOD BACK PLATE, 2 2" CABLE PASS THROUGHS WITH CONDUIT NIPPLES. POPULATED WITH FOAM PLUGS. 2 1/4 TURN SCREWDRIVER LOCKS AND 1 90 DEGREE HASP.
1- 12" COPPER GROUND BAR ON ISOLATORS
Racking Spec Layout.
STANDARD EIA 19″ Racking.
EIA-310 is a specification for what is often called the "standard rack". This specification standardizes several important features of 19″ racks, such as the Rack Unit (RU or U), vertical hole spacing, horizontal hole spacing, rack opening, and front panel width. The specification also set tolerances on each of these dimensions. The EIA-310 specification has been the 19″ racks standard for equipment for 50 years. The items that the specification does not cover are the real reason for the industry wide incompatibility we now face. Rack features such as hole type, rack mounting depth, front and rear space, and obstructions between front and rear rails are the cause of real rack headaches. Vertical Hole Spacing Vertical hole spacing is defined as a repeating pattern of holes within one Rack Unit of 1.75″. The hole spacing alternated at: 1/2″ – 5/8″ – 5/8″ and repeats. The start and stop of the "U" space is in the middle of the 1/2″ spaced holes. See the diagram below. Horizontal Spacing The horizontal spacing of the vertical rows of holes is specified by EIA-310 at 18 5/16″ (18.312)(465.1 mm). This dimension is not well maintained on some racks, causing problems with equipment installation. Many manufacturers use equipment mounting slots instead of holes to allow for variations in this dimension.
Rack Opening The opening in the rack is specified as a minimum of 17.72″ (450mm). 2Post or relay racks tend to have a larger than normal opening, as do many other racks with threaded holes. Square hole racks tend to be very close to the minimum opening. Front Panel Width.The only dimension on a 19″ rack that actually measures 19″ is the width of the front panel of equipment.
---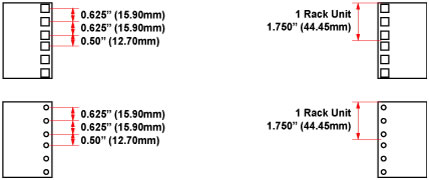 ---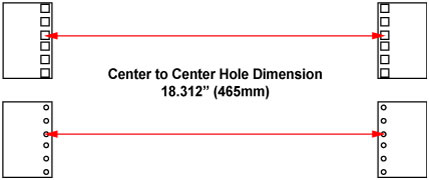 ---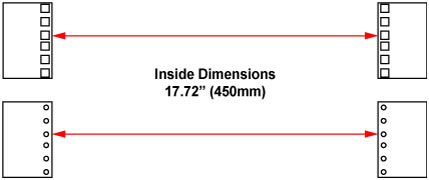 ---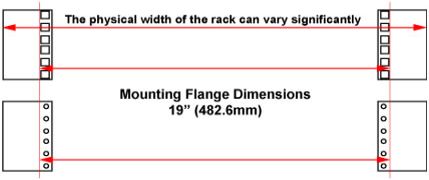 ---
Dimensions and Weight
Length: 25 in.
Width: 25 in.
Height: 30 in.
Shipping Weight: 200 lbs.