Item no.: 49120
Manufacturer: OkSolar
Made as per Order from 2Ft. to 15ft. red and black heatshrink

Item no.: 49121
Manufacturer: OKSolar
Heavy duty battery interconnects, Made as per Order from 2Ft. to 15ft. red and black heat-shrink

Item no.: 49123
Manufacturer: OkSolar
Use these cables between a battery bank and inverter, fuse or power center.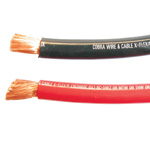 Item no.: 49124
Manufacturer: OkSolar
This fine-stranded, very flexible cable is UL Listed for use as battery cable. It is rated MTW or THW or AWM, 600-V, sunlight resistant, direct burial, 105 °C. Available with red or black insulation.

Item no.: 49125
Manufacturer: TRACE
10' (3.0 m), red and black heatshrink

Item no.: 49126
Manufacturer: TRACE
15' (4.5 m), red and black heatshrink

Item no.: 49139
Manufacturer: TRACE
1.5' (0.5 m), red heatshrink (+)

Item no.: 49140
Manufacturer: TRACE
1.5' (0.5 m), black heatshrink (-)

Item no.: Battery-Cables
Manufacturer: OkSolar
Made as per Order from 2Ft. to 15ft. red and black heatshrink