UL Listed Battery Cable 4/0
UL Listed Battery Cable 4/0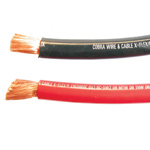 This fine-stranded, very flexible cable is UL Listed for use as battery cable. It is rated MTW or THW or AWM, 600-V, sunlight resistant, direct burial, 105 °C. Available with red or black insulation.
Dimensions and Weight
Length: 0-100ft in.
Width: 0 in.
Height: 0 in.
Shipping Weight: 10 lbs.