Infrared Illuminators Narrow Spot Lamp
Infrared Illuminators Narrow Spot Lamp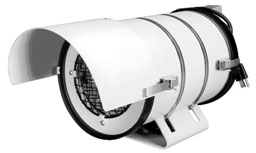 Infrared iluminator Low Light Level medium flood Lamp

LL27MF Series Infrared Illuminator

Product Features •120 VAC or 230 VAC Input •Automatic Photocell On/Off •Accepts Readily Available Sealed-Beam Lamps •Narrow Spot and Medium/Wide Flood Versions •Air-Cooled for Longer Bulb Life Pelco Model LL27 Series infrared illuminator is designed to be used with low light level cameras with sensitivity in the IR spectrum (above 700 nm) for nighttime surveillance when a minimum of visible illumination is required. An IR "covert " filter transmits approximately 0.01 percent of the visible light spectrum. Automatic on/off operations are controlled by a photocell with a time delay feature that prevents the unit from being switched off by a momentary beam of light such as that from a headlight. This rugged weatherproof unit is equipped with a built-in sun visor, quick-release latches for ease of service, and sturdy mounting cradle.
Three models are available; the LL27MF with medium flood lamp, the LL27WF with wide flood lamp, and the LL27NS with narrow spot lamp for maximum distance coverage. All models are equipped with a highly efficient PAR56 sealed beam lamp which provides an optimally uniform field of illumination, making the illuminator effective with shorter focal length lenses.
To ensure longer bulb life, all models are equipped with a built-in blower.
Dimensions and Weight
Length: n/a in.
Width: n/a in.
Height: n/a in.
Shipping Weight: 25 lbs.