EH8104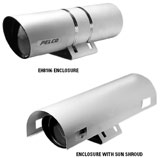 EH8100 Series Pressurized | The EH8100 Series are sealed and pressurized outdoor enclosures designed to protect CCTV cameras operating in adverse environmental conditions. The EH8100 Series have lens preset capabilities and are designed to accept CCD cameras with fixed focal length or motorized zoom lenses.
Dimensions and Weight
Length: in.
Width: 17 in.
Height: in.
Shipping Weight: 45 lbs.