EH5723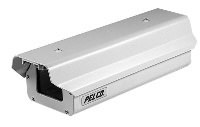 The EH5700 Series are indoor/outdoor enclosures designed for use with Pelco medium- and heavy-duty pan and tilts or fixed mounts. Constructed of aluminum and available in a 23-inch (58.42 cm) length (EH5723) and 29-inch (73.66 cm) length (EH5729), these enclosures are designed to accept larger format cameras with either fixed focal length lenses or motorized zoom lenses. The enclosure opens from the rear. The forward-opening lid allows for maximum accessibility during installation and when camera and lens adjustments are necessary. A gas spring securely holds the lid when fully opened. The lid is secured with side-mount link-lock latches. If desired, the latches can be secured with a padlock of suitable size for additional security. All models feature an adjustable camera sled with a built-in elevation block that can be removed and inverted. The EH5700 Series enclosures are available with a full complement of accessories which include blower, heater, window defroster, sun shroud, window wiper, preset lens wiring harness, 120 VAC outlet, and thermal insulation. The EH5700 Series can be used in fixed mount applications or mounted to a PT570 Series medium duty pan/tilt or PT1250 Series heavy duty pan/tilt.
Dimensions and Weight
Length: in.
Width: in.
Height: in.
Shipping Weight: 25 lbs.