OkMega Swing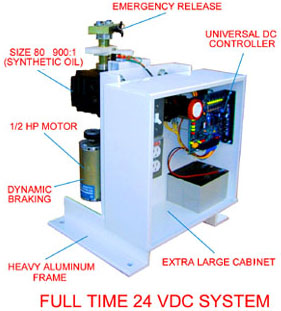 MADE IN USAThe OkMEGA SWING-UL by DC SOLUTIONS, INC. was made to be unique in the industry through innovative design and solid engineering. Its single State of the Art universal electronics control board eliminates the need for motor relays and contactors. Its full service controller is capable of accepting inputs from telephone entry, loop detectors, card readers, push buttons, etc...

Built in regulated 24VDC backed up power provided for accessories (detectors, radio receivers, card readers, mag-lock).

Should AC power fail, the unit can run on battery power or be set to auto-open with a 15 second delay. In the unlikely event the unit should be rendered inoperable (fire, flood, lightning), the drive arm assembly can be disengaged so the gate can be pushed open by hand. Finally, its rugged modern design and cutting edge technology will make the MEGA SWING-UL the perfect choice for all your swing gate applications.
Dimensions and Weight
Length: in.
Width: in.
Height: in.
Shipping Weight: 170 lbs.