SQFlex Solar Water Pump 25 SQF-3 Grundfos Pumps
SQFlex Solar Water Pump 25 SQF-3 Grundfos Pumps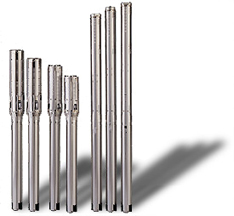 Solar water pump is the most reliable solar deep well pump we have ever represented. The Grundfos SQ flex solar water pump has two solar pump options helical rotor pumps and centrifugal pumps.

WATER, WHEREVER, WHATEVER
With the advances in pump technology over recent years, areas that would previously have been considered uninhabitable or not supportive of life have become viable and attractive. With the new SQFlex system, Grundfos can consolidate these areas and pioneer further into new territories: Consolidating by upgrading older unreliable pump technology, and pioneering by providing more stable and low-maintenance pumping solutions in even more remote areas.

Potential SQ Flex applications include:
Live stock watering
Remote Homes
National/State Parks
Irrigation
Remote Camps
In locations where power is scarce and water is a necessity.
Dimensions and Weight
Length: 33 in.
Width: n/a in.
Height: n/a in.
Shipping Weight: 54 lbs.