Battery Cabinets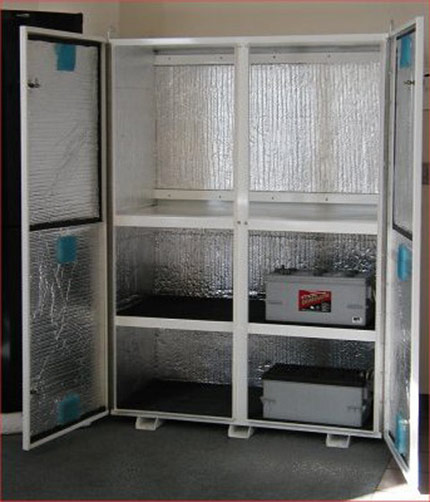 Equipment/Battery Enclosures As the quality is evident in our racking products our enclosures are no exception. Our hand-built enclosures are created with pride through every step. Our standard enclosures are manufactured from .125" H5052-H32 aluminum. Other available materials include mild steel or stainless steel. All of the welded seams and corners are sanded smooth. We use a continuous stainless steel hinge on all of our enclosures (except screw-cover) and finish the enclosures with a polyester powder coat finish. The pole-mounted enclosures are provided with a removable back-panel to mount a charge controller and other components. Padlock hasps are provided on all of the enclosures and we may also use other latches as needed. Other options include insulation, pre-punched conduit entries, active venting, gasketing, custom finishes, and hot-dip galvanizing, and tamper-resistant latches, just to name a few. We may install customer components and wire the system to meet customer specifications. Battery Boxes manufacture several types of high-quality heavy-duty enclosures to house electrical components and/or batteries. Our battery enclosures are designed to hold a specific number and specific type of battery with the necessary space for cabling and to meet other customer requirements. Multiple door and/or multiple compartment enclosures are available to meet virtually every requirement. Battery Cabinets battery cabinets for both indoor and outdoor use. Our outdoor cabinets are provided with single, or double-door design (depending on size). We may also provide a separate compartment for an inverter, charge controller, or other ancillary electronics. Our indoor cabinets have polypropylene sides and removable clear lexan front covers with large handles for easy access. The height of the feet is adjustable for uneven floors. Again, these are designed for a specific size and number of batteries to meet your requirements.
Dimensions and Weight
Length: n/a in.
Width: n/a in.
Height: n/a in.
Shipping Weight: 130 lbs.