Chest-style Battery Enclosure OKCS-300
Chest-style Battery Enclosure OKCS-300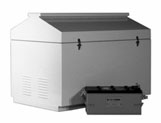 Our Chest Style Enclosures are designed for high volume installations and allow flexibility for use in many applications. These enclosures can mount to the floor, include electrical knockouts for wiring and fulfill the requirements for NEMA 3R. Do to their larger size these enclosures can accommodate a number of electrical components and batteries in various configurations!
Dimensions and Weight
Length: 33 in.
Width: 55 in.
Height: 30 in.
Shipping Weight: 130 lbs.