Cooling Fans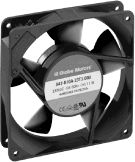 Powered by 12VDC, 24Vdc 48VDC or 115 volt or 230 volt AC, 60/50 Hertz single phase motors and available in three sizes with nominal airflows of 100, 240 and 560 cubic feet per minute (CFM). These fans are ideal for applications where compact and quiet service is desired.
Dimensions and Weight
Length: 0 in.
Width: 0 in.
Height: 0 in.
Shipping Weight: 5 lbs.