24 Foot Tower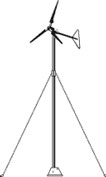 • A tower kit

• Three conductor wire from wind generator to controller

• Subpump three conductor wire from controller to pump

• Splice Kit

• Tower pipe, 2.5 inch Schedule 40 (O.D. 2.875inches or 73mm), available from fence or water pipe supplier.

• Polyurethane or galvanized pipe from pump to tank.

• Safety rope (S/S)for pump raising/lowering.

• Pipe fittings.
Dimensions and Weight
Length: in.
Width: in.
Height: in.
Shipping Weight: 70 lbs.