Military Foldable Solar Battery Charger - 60W
Military Foldable Solar Battery Charger - 60W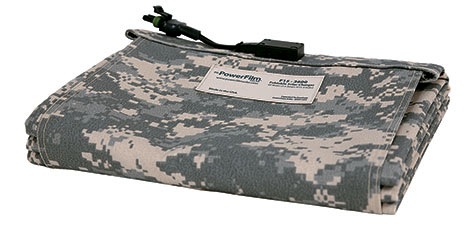 Foldable Solar Charger is the next step up in portable power and charging needs, producing more power and opening up additional applications. Utilization of the included 12 V Female Barrel accessory makes using the Military Foldable Solar Charger extremely easy and convenient. Essentially replacing a vehicle battery for powering small- to medium-sized devices such as a laptop or electric inverter, the foldable Solar Battery charge is a perfect addition to outdoor supplies.

The 60W foldable solar charger takes you to the next level in portable solar power generation, increasing capability and charging speed while weighing just 5 lbs.

The 60W foldable solar charger provides you with a step-up in power point for solar charging large electronic devices directly using the DC power or by utilizing one of many available accessories. Unlike "CIGS" solar technology, there is no need for "sun-soaking" the panel for optimum performance after periods of storage - so PowerFilm solar provides critical power immediately.

How the charger works:
Place the charger solar-side up in the sun.
Connect your device to the charger using a male 12V CLA and the included female 12V CLA.
Optionally, the charger can be connected directly to a 12V battery for battery charging and power storage.

Note - unlike the USB+AA and AA solar chargers there is no storage mechanism, meaning the charger will only produce DC power while in the sun.


Dimensions and Weight
Length: in.
Width: in.
Height: in.
Shipping Weight: 5 lbs.