Fuel Cell Remote Battery Charger
Fuel Cell Remote Battery Charger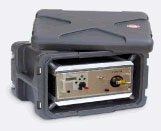 Remote Battery Charger (RBC) The RBC is a Rack Mount 100W, 12VDC only fuel cell system designed for keeping batteries automatically topped up in remote locations. This could be powering monitoring, surveillance, communications or other similar equipment, where batteries are already being used to supply power – what this system does is extend the runtime of your equipment and make your visits to swap over the batteries less frequent. Like the ABC, this system has a serial port which can be used to diagnose the system performance, giving information about how much fuel there is left based on how the system has been used and it can be configured to do this remotely. The ABC is flexible in that it can run on either an internal metal hydride canister or an external hydrogen cylinder, available from your local hydrogen gas supplier – as long as there is fuel being supplied to it, the RBC will continue working. It can also work in conjunction with other renewable power sources such as wind turbines and solar cells to provide the optimum power solution.
Dimensions and Weight
Length: n/a in.
Width: n/a in.
Height: n/a in.
Shipping Weight: 8 lbs.