Fuel Cell Automatic Battery Charger
Fuel Cell Automatic Battery Charger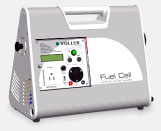 Automatic Battery Charger (ABC) The ABC is a 100W portable fuel cell system packaged so that it is easy to carry and use anywhere, even underground. It is available in two different AC voltages; either 110V or 230V and both variants have both a 12VDC output and a USB charging port. This system can be used to power small portable devices such as IPODs or mobile phones or to simply recharge any battery. It is fully integrated for convenience and it boasts a frost sensor which enables the user to use it in below freezing conditions. The ABC has a serial port. This can be used for diagnosing the system e.g. for system statistics and fuel leve

Mobility Mobile units are only as good as the power that drives them – Battery technology has not been able to keep up with the rapidly mounting demands of many devices. Fuel cells are the energy source of the future!

Efficient Energy Methanol, which is employed in all IQ fuel cells, has a storage density of more than 1200 Wh per kilogram, several times greater than the best batteries available today. IQ furnishes methanol in ultra-pure form in specially designed and safety-tested fuel cartridges. The convenient cartridges are available internationally, can be replaced within seconds and are safe, making them extremely user friendly.
Dimensions and Weight
Length: n/a in.
Width: n/a in.
Height: n/a in.
Shipping Weight: 34 lbs.