Charge Controller 60amp, 12 to 60 VDC battery
Charge Controller 60amp, 12 to 60 VDC battery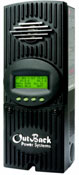 MPPT Charge Controller
The OutBack MX60 Maximum Power Point Tracking (MPPT) charge controller enables your PV system to achieve its highest possible performance.
Rated for up to 60 amps of DC output current, the MX60 can be used with battery systems from 12 to 60 VDC with PV open circuit voltage as high as 125 VDC.The MX60's set points are fully adjustable to allow use with virtually any battery type, chemistry and charging profile.
The MX60 allows you to use a higher output voltage PV array with a lower voltage battery.
This reduces wire size and power loss from the PV array to the battery / inverter location and can maximize the performance of your PV system.
The MX60 comes standard with an easy to use and understand display of the PV system's performance.The four line, 80 character, back-lit LCD display is also used for programming and monitoring of the system's operation. The MX60 can also be connected to the OutBack MATE system controller and display to allow monitoring of up to eight MX60 controllers from a location up to 1000 feet away.
The MATE also includes an opto-isolated RS232 port for connection to a PC for data logging and system monitoring.See page 84 for more information on the MATE.
Dimensions and Weight
Length: 14.50 in.
Width: 5.75 in.
Height: 5.75 in.
Shipping Weight: 13.00 lbs.