Inverter/chargers 12V - 2000 Watts - 230 VAC 50Hz
Inverter/chargers 12V - 2000 Watts - 230 VAC 50Hz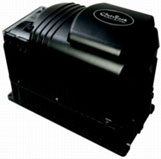 Inverter/charger 2000 W, 12 VDC, 120VAC, 100 A charger.

Inverter/Chargers advanced power management. Each is a DC to AC sinewave inverter, battery charger and AC transfer switch housed within a tough die-cast aluminum chassis.
Dimensions and Weight
Length: 21.60 in.
Width: 12.75 in.
Height: 15.50 in.
Shipping Weight: 61 lbs.