Battery Charger 24V DLS24-12.5
Battery Charger 24V DLS24-12.5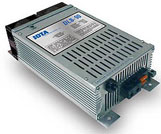 12.5 Amp, 24 Volts.

The DLS-24 features a Two-Step Voltage Jack which allows switching from a long-term float voltage of 24.6vdc to 27vdc for rapid charging by simply inserting the dual voltage plug (included) into the jack.

The DLS-15 is also available with an IQ smart-controller already integrated into the unit which converts the charger into a 3-stage "smart" charger, increasing the performance of your DLS-24.
Dimensions and Weight
Length: 7.00 in.
Width: 6.75 in.
Height: 3.75 in.
Shipping Weight: 5.5 lbs.