ES17-12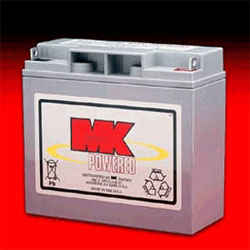 MK Battery ES17-12
VRLA–AGM Sealed, maintenance-free, valve-regulated type AGM batteries are available in smaller size capacity ratings, perfect for use with solar applications for powering lighter loads such as telemetry, SCADA, remote monitoring, UPS systems, LED and emergency lighting . Capacity discharge ratings are at the 20-hour rate- 20oC at -4oF to 122oF . Charge termination voltage- cyclic use = 14 .40 Vdc, float 13 .80Vdc . Rated Non-Spillable-DOT .
---
Click here to see more Info in PDF format.
---
Dimensions and Weight
Length: 7.13 in.
Width: 2.99 in.
Height: 6.57 in.
Shipping Weight: 14 lbs.