8GU1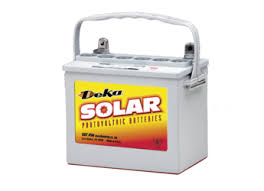 8GU1 Valve regulated Gel 12V, 31.5 Amp
VRLA- Gel Battery series of valve-regulated, gelled-electrolyte batteries is designed to offer reliable, maintenance-free power for renewable energy applications where frequent deep cycles are required and minimum maintenance is desirable . The sealed construction eliminates periodic watering, corrosive acid fumes and spills . The electrolyte will not stratify so no equalization charging is required . Less than 2% per month standing loss means little deterioration during transport and storage .
They are ideal for small to medium sized PV systems and are rated non-spill-able by ICAO, IATA and DOT . These batteries feature-polypropylene containers with handles and self sealing vents . They are constructed with lead-calcium plate alloy within sulfuric acid thixotropic gel.
---
Click here to see more Info in PDF format.
---
Dimensions and Weight
Length: 7 in.
Width: 5 in.
Height: 7 in.
Shipping Weight: 34 lbs.