PS15M/48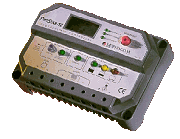 12VDC, 30 AMPS, W/DIGITAL METTER.

ProStar Charge Controllers Morningstar has just upgraded their very popular ProStar line of pulse width modulated (PWM) charge controllers to include several new features.The new design is still dual voltage at 12 or 24 volts with an optional LCD display, but it is now available only in 15 or 30 amp capacities.Morningstar has added a 15 amp 48 volt model to the ProStar lineup that comes standard with the LCD display.

A 15A/48V positive ground model (PN 34939) is available.The ProStar's LCD display still shows battery voltage,array amperage and load amperage (if applicable), but now it also shows system information when a self diagnostics test is performed as well as error codes to let you know what is going on if it detects a fault. Internal temperature compensation is still standard.These additional features make the new ProStar controllers one of the most advanced on the market.Five year warranty.
Dimensions and Weight
Length: 6.00 in.
Width: 4.14 in.
Height: 5.50 in.
Shipping Weight: 13.00 lbs.