Electric Vehicle Charging Stations
Electric Vehicle Charging Stations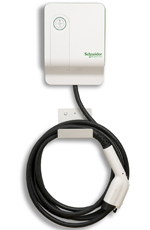 Schneider Electric offers a suite of electric vehicle charging stations for both residential and commercial applications. These Level 2 charging stations can charge most EV batteries in 3 to 8 hours via the standard S AE J1772 compliant output plug, which fits the receptacles of most popular EVs and Plug-in Hybrid-Electric Vehicles such as the Nissan Leaf, Chevy Volt and Toyota new plug-in Prius.

The Schneider EV Link charging stations also feature a user-friendly interface, integrated ground fault protection, and automatic restart following a corrected ground fault or temporary loss of power.

For maximum output, installation will require a 240 VAC source with a 40 A two-pole circuit breaker capable of a 30 A continuous load per charging unit. Dual chargers require twice the current or two separate circuits.

New! Schneider Electric EV Link Wall-Mounted Level 2 Charging Stations

These charging stations mount on the wall of a garage, or outdoors on the side of a building. Installation with a standard 240 VAC socket and plug is suggested to keep the unit portable. RFID access is only available on the outdoor version, which also features a NEM A 3R weatherproof enclosure.
Dimensions and Weight
Length: in.
Width: in.
Height: in.
Shipping Weight: lbs.