Electrical Vehicle Charging Station 12Kw
Electrical Vehicle Charging Station 12Kw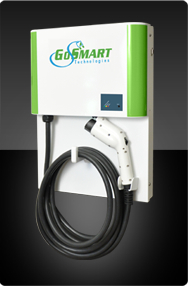 Electrical Vehicle Charging Stations
The ChargeSPOT RF Series is an intelligent charging station usable in any environment where fee collection is not needed. Private fleets for business, residential (both suburban and urban), and even retail outlets can use ChargeSPOT stations to provide complimentary charging for their customers.

With multiple power levels available, a robust user interface, and "smart grid" capabilities, the RF Series will support the current and future demands of any community or business.

Both units are configurable with a variety of networking options, including Wi-Fi, Ethernet and cellular modem. Electrical power usage data is securely uploaded to the GoSmart servers to provide energy statistics to registered users. They can operate on 208 VAC or 240 VAC.

ChargeSPOT RF50A is capable of providing up to 12 kW of power which is enough to fully charge most PHEV in 1 to 2 hours.
Dimensions and Weight
Length: in.
Width: in.
Height: in.
Shipping Weight: lbs.