Universal Side Pole Mounts
Universal Side Pole Mounts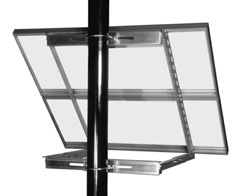 Side of Pole Mounting

Adjustable 26 inch rail, 2-4 pipe or 8 inches

We use 5052 H32 Aluminum, cold roll steel and special high strength hot roll steel for our Top of Pole Braces (right), Tilt Plates and Cross Rails to stay in compliance with our 125 mph wind load rating. Leading 20-year warranty and has never had a failure in the field under Rated conditions!
Dimensions and Weight
Length: in.
Width: in.
Height: in.
Shipping Weight: 40 lbs.