PVL29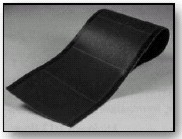 Field applied thin-film solar laminates can be applied to standing seam metal roofing materials in the field for a total custom look.

Minimum order of 45 units.

You don't have to compromise the aesthetics of your home to get the energy independence you want. The PVL Roofing Laminates are made exceptionally durable by encapsulation in UV stabilized polymers. Bypass diodes are connected across each cell, allowing the modules to produce power even when partially shaded. They come with the bonding adhesive factory applied on the back of the laminate. Rugged, weatherproof junction box. Lightweight, flexible product construction• Easy peel and stick installation • Roll shippable UL listed, 20-year warranty (only on products installed by a UniSolar certified installer).
Dimensions and Weight
Length: 102.75 in.
Width: 15.50 in.
Height: 1.00 in.
Shipping Weight: 9.20 lbs.