Solar Water Pumping from 25-75 foot depth
Solar Water Pumping from 25-75 foot depth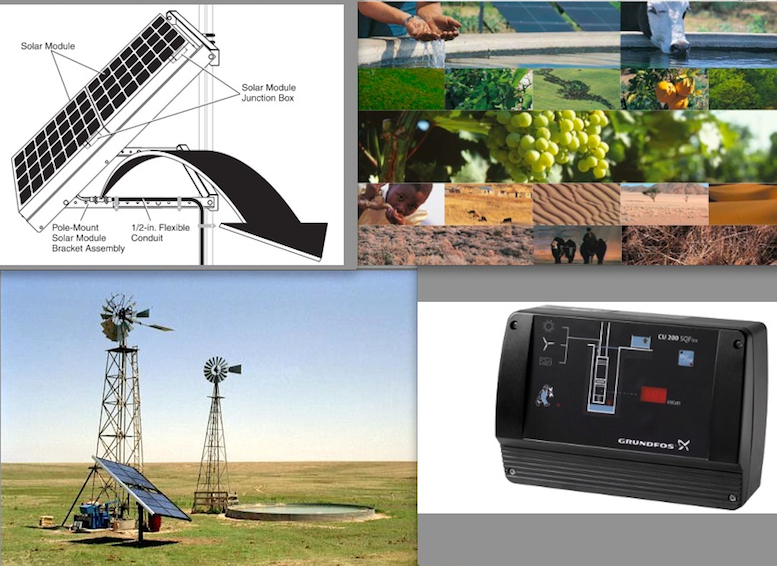 Solar Water Pumping Kit from 25-75 foot depth system is designed to pump water from 25 feet to 75 feet in depth. Output ranges from 3,470 gallons per day at 25 feet to 1440 gallons per day at 75 feet.

Kit includes everything you need: Pump, pump controller, solar modules (panels), solar array mounting rack, junction box with internal PV disconnect switch, flexible conduit, junction box to controller, pre-wired, submersible cable splice kit, low-water probe, and complete illustrated instruction manual.

Not included (but available through local suppliers) are the steel pole and concrete to support the solar array, (schedule 40 pipe, size and length specified in the rack instructions, drop pipe, water well safety rope (1/4") and wire.

This system fits 4" diameter wells and larger. The pump has only one moving part - no failure-prone diaphragms or motor brushes to replace. The controller is above ground for easy acess and greatest reliability. The controller is weather sealed for all climates.
Dimensions and Weight
Length: n/a in.
Width: n/a in.
Height: n/a in.
Shipping Weight: 198 lbs.